Newsroom
Robert Morris University
Getting Rid of Covid
RMU nursing student volunteers administer more than 1,500 vaccine shots at South Hills clinics.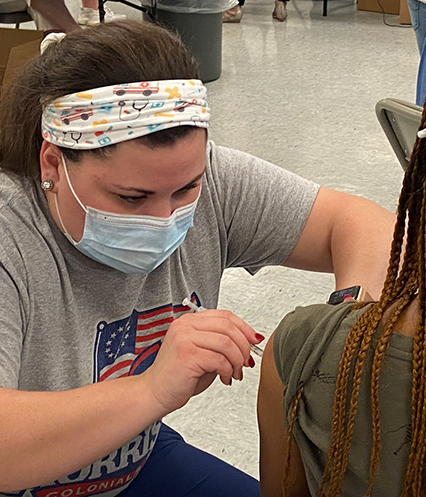 RMU nursing students have played a significant role in the fight against Covid-19, giving more than 1,500 inoculations while volunteering at temporary vaccination sites in the South Hills.
Under the supervision of faculty and staff registered nurses, 34 juniors and seniors volunteered at Spartan Pharmacy clinics at the Bethel Park Community Center and Broughton Fire Hall in South Park Township. Students donated 225 hours of their time and assisted with preparation and injections of the Moderna and Pfizer vaccines.  
"As a nursing student it has been difficult to go through this pandemic not being able to help as other healthcare professionals have. It was incredible to have the honor of administering vaccines to the public, to finally be involved and make a difference," said senior nursing major Malena Mozeyko. 
"Not only was it great experience for us, it was also a great way for us to help make history," said senior Katie Bower. "This clinic brought light into these dark times."
"Hearing so many people say this was giving them the ability to see and hug family they haven't seen in a year really hit home for me and made me proud to play a part in that process," said recent graduate Jax Kelly.
Volunteers were organized by the RMU chapter of Student Nurses Association of Pennsylvania.  Staff members Nancy Tamilia and Jan Barber and nursing professors Betsy Guimond and Margaret Rateau accompanied the students to the clinics and provided the requisite supervision by a registered nurse.
"The students' experience has been overwhelmingly positive," Barber said. "They grasp that they are part of history and have said someday they will tell their children and grandchildren that they gave vaccine shots and helped in the effort to end the pandemic."