Newsroom
Robert Morris University
Helping the Helpers
Alum directs COVID-19 telehealth rollout.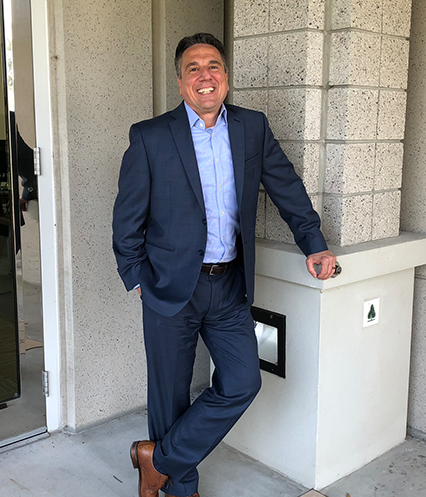 One year ago, Eric Ramsey achieved a lifelong goal and earned his college diploma. Now Eric is playing a key role keeping 500 doctors and healthcare providers throughout Florida safely available to patients during the coronavirus emergency.
Eric is director of clinical information systems at Millennium Physician Group in Fort Myers, whose doctors, nurse practitioners, and other care providers in 150 locations serve 450,000 patients throughout Florida. Eric is the person responsible for overseeing the IT systems that handle all the private health data.
He has been very busy lately as Millennium has rushed to provide a full suite of telehealth systems to its doctors and patients for video visits, remote patient monitoring, and other services while ensuring all data is private and secure.
Local TV news picked up the story, interviewing a doctor who is seeing up to 20 patients a day via video chat. Some of the group's health care providers are in quarantine, and they are now able to see patients remotely.
"It's going well, but as you can imagine these are trying days for healthcare," Eric says. "We were already doing video visits and remote patient monitoring, but this pushed us enterprise wide, and as you can imagine it is driving up patient demand."
Eric grew up in Pittsburgh and attended night classes at RMU downtown in the late 1980s, but his studies were put on hold when he was hired by Turner Construction for an IT job that involved a lot of travel. He then worked in IT jobs at Shadyside Hospital and later UPMC, where he was desktop support manager for ambulatory stuff. When his wife, a nurse anesthetist, got a job in New Jersey, he followed and found another healthcare IT job there.
In 2016 they moved again when he got a job in Florida. That year he also began studying online at RMU to complete his bachelor's degree in health services administration. "What I loved most about the program is that all of the instructors have recent real-world industry experience, which ensured that the courses were always up to date and current," Eric says. Courses covered all aspects of healthcare that administrators need to understand — marketing, finance, reimbursement and billing, managerial strategies, operational questions, research, managing protected health data, and government policy.
Soon after Eric earned his diploma, he also earned a promotion.
"Millennium's IT workforce has grown from 15 to 90 people in just the three years I've been here," he says. "I was able to stand out from all my IT peers. My HSA degree prepared me for the job I wanted."