Newsroom
Robert Morris University
New Dean for SIHSS
Cybersecurity expert will head the School of Informatics, Humanities and Social Sciences.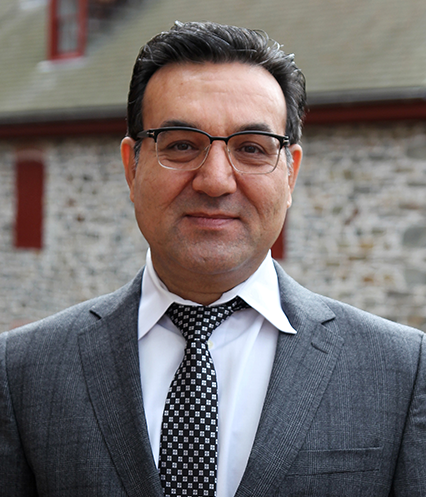 Robert Morris University has announced the selection of Amjad Ali to become the next dean of the School of Informatics, Humanities and Social Sciences on June 1.
Ali is currently associate dean and professor of information technology and cybersecurity in the School of Applied Science and Technology at Thomas Edison State University in Trenton, N.J., which he joined in 2016, the year after it achieved university status.
"I'm really excited to join RMU at a transformative time for the School of Informatics, Humanities and Social Sciences," Ali said. "I am glad to take this position because the school has tremendous potential for cross-disciplinary collaboration and growth."
In four years at Thomas Edison State, Ali has led the development of new graduate, undergraduate, and certificate programs in information technology and cybersecurity, and also manages a cross-disciplinary technical communication program supported by faculty from IT, communication and English. In 2018 Ali organized a successful regional symposium on cybersecurity trends, threats, and workforce needs in Jersey City.
"RMU is fortunate to have someone of Dr. Ali's caliber as a dean," said Mary Ann Rafoth, university provost. "Our search team was impressed with his nearly 20 years of successful experience in higher education as an academic administrator and faculty member, in addition to his industry consulting experience."
Ali has held several roles at the University of Maryland in 12 years there. He was a professor of information technology, then director of its Center for Security Studies before becoming an associate vice president and advisor to the president, providing strategic advice on cybersecurity-related initiatives and programs. Ali led the successful development and launch of major cross-disciplinary cybersecurity programs and strategic initiatives including doctoral programs at the university.
He is also the former manager of continuing education at the American Council of Engineering Companies in Washington, D.C., and the former dean of DeVry University's  Keller Graduate School of Management in New York City. He has also taught at Walden University in Minneapolis and worked as an IT consultant.
Ali has a strong record of research grant awards and scholarly publications in peer-reviewed journals and has served as a featured speaker and subject matter expert at conferences and government hearings on diverse topics in cybersecurity. 
He has a bachelor of science degree from the University of Engineering and Technology in Pakistan, and master's and doctoral degrees from George Washington University in Washington, D.C.