Newsroom
Robert Morris University
Women's Basketball Ranks No. 2 Nationally for Team GPA
Colonials team average 3.76 GPA second only to South Dakota State in all Div. I NCAA.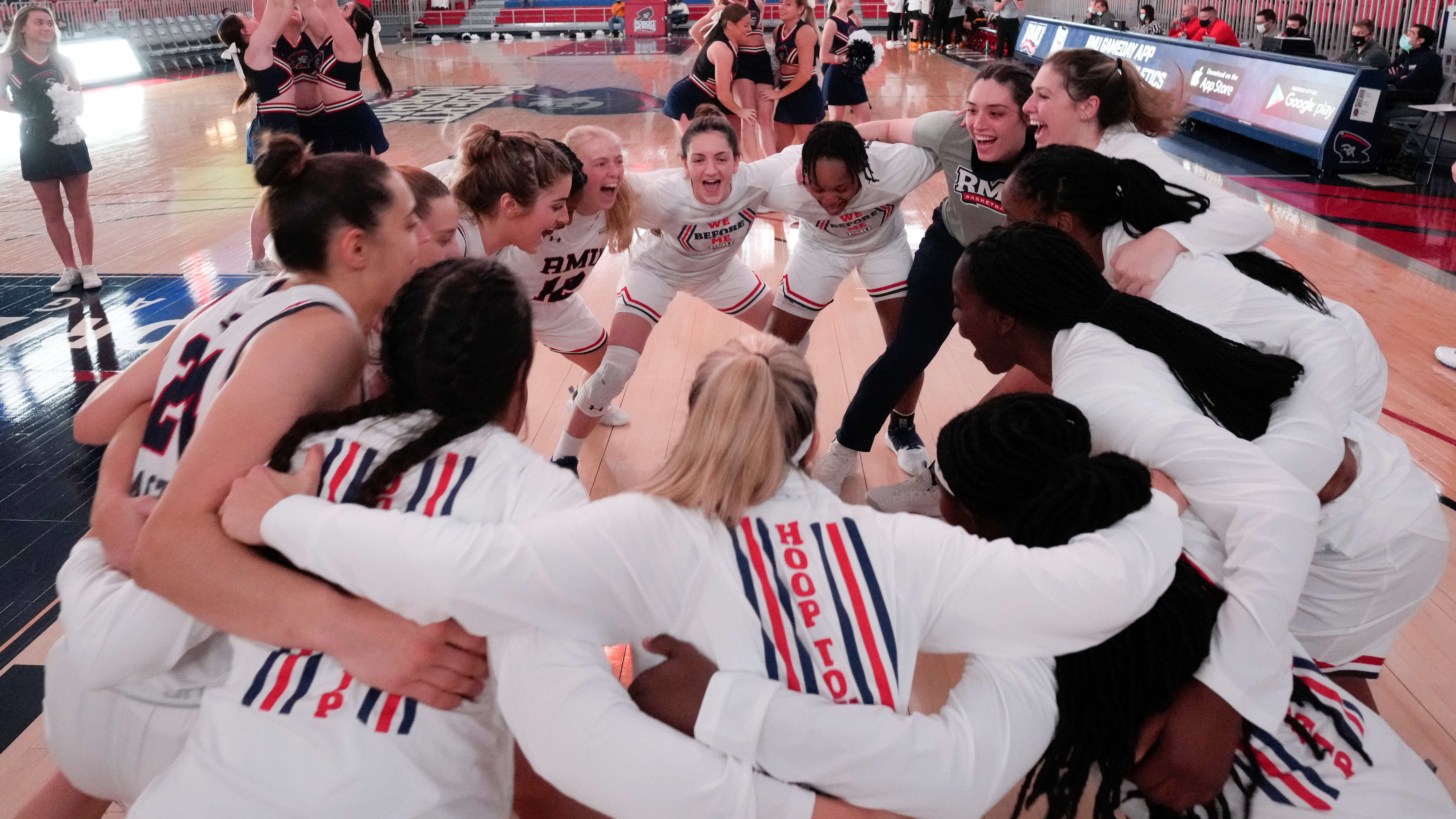 The RMU women's basketball program continued its tradition of  success in the classroom Wednesday, earning the No. 2 ranking in the Women's Basketball  Coaches Association (WBCA) Academic Top 25 Division I Team Honor Roll. 
RMU posted a 3.762 grade point average (GPA) during the 2021-22 school year, matching its  highest designation thus far. The Colonials also extended their streak of six consecutive  seasons with a top four ranking in the WBCA Academic Top 25, remaining the only Division I  school to do so over that stretch. This unprecedented run began in 2016-17 (3.726) with a  national runner-up finish, followed by a No. 4 ranking in 2017-18 (3.748). RMU posted a 3.713  GPA in 2018-19, a 3.767 GPA in 2019-20, and a 3.824 last season, coming in at No. 3 each  year. 
"It's all about work ethic, prioritizing your responsibilities, and budgeting your time," said RMU  head coach Charlie Buscaglia. "To earn this top GPA, you aren't able to take any days off from  your work. Every test, every assignment and every project are valued 100%. It's truly about  giving it your all on each task and knowing your teammate is doing the same. Also, it's very  special to have six international student-athletes that chose to sign with our program and have  them grow so quickly into our system. I truly believe in the model of the student-athlete and how  important these opportunities are for these young adults to build their foundation for a very  successful future. I'm so very proud of the team for putting another brick on our foundation." 
South Dakota State (3.837) was the only team to finish ahead of RMU in the rankings, with  Maine (3.730) and Lipscomb (3.725) rounding out the top four. Horizon League competitor  Green Bay and Western Illinois tied for the fifth spot in the standings, with each program  finishing with a 3.723 GPA during the 2021-22 season. 
"The WBCA family of coaches is committed to the student-athlete experience and celebrates  these teams that have demonstrated excellence in the classroom," said WBCA Executive  Director Danielle Donehew. "This year's WBCA Academic Top 25 is a powerful list of teams and  their head coaches who have winning cultures that prepare their student-athletes for success in  life." 
Across the five levels (Division I, II, III, NAIA, Two-Year College) that the WBCA ranks, RMU is  joined by only Division II Lubbock Christian University among programs that have been ranked  inside the top four of their respective divisions for six seasons running. The second overall  ranking is the highest the Colonials have achieved in their six honors from the WBCA. 
"I would like to thank everyone in our administration for their assistance throughout the  process," said Buscaglia. "I'd like to thank my coaching staff for all their daily efforts in guiding  our team. I would also like to thank all the tutors that worked effortlessly with our student athletes throughout the year, as your commitment to our program is greatly appreciated. Lastly,  I would like to send out a special thanks to Nicole Law and Coach Dashiell. Their teamwork and  daily efforts in advising our student-athletes mean so much to the program, and we are always thankful for those efforts."