MBA in Business Analytics
Apply Today
Master the Future with RMU's STEM-Designated MBA in Business Analytics
Shape your future with our new MBA in Business Analytics, a uniquely designed STEM MBA that merges business acumen with data-driven decision-making.  The program is offered by the AACSB accredited Rockwell School of Business at Robert Morris University. In 2022, our MBA program was ranked as the 15th best online MBA program in the U.S. by Fortune magazine, signaling our commitment to providing a top-tier educational experience. The MBA-BA builds on this success with a similar lineup of courses taught by the same experienced professors.
Rooted in the Real World
The RMU MBA employs an applications-based curriculum delivered through case studies, assignments, and discussions designed to emulate real-life work experiences. We've also modelled our curriculum based on feedback from top employers, ensuring that you graduate with a skillset that is highly relevant and valued in today's business environment.
Credentials
Graduates of the MBA-BA will receive both an MBA and a certificate in Business Analytics.
Personal Attention
We also prioritize personalized attention. Our small class sizes ensure enhanced interaction and productive communication with both professors and peers. Furthermore, our dedicated enrollment counselors are always ready to assist you with course registration and ensure you meet all deadlines and requirements. 
Fast and Flexible
Despite the comprehensive nature of our program, you can complete your degree in as soon as one year.  This is made possible by our 8-week accelerated course format, allowing you to fast-track your path to increased responsibilities and rewards that come with a higher position.
Small classes
Class size is kept small for enhanced interaction, so that professors are able to communicate frequently and productively with online and on-ground students.
AACSB accredited
Robert Morris University is an accredited member of AACSB International -- The Association to Advance Collegiate Schools of Business. Synonymous with the highest standards of excellence since 1916, AACSB provides quality assurance, business education intelligence, and professional development services to more than 1,000 accredited business schools worldwide.
Contact information
For admissions or financial aid questions:
Graduate Admissions
graduateadmissions@rmu.edu
412-397-5200
For academic or program questions:
Jodi Potter
M.B.A. Program Director
potterj@rmu.edu
412-397-6387
Sample Courses:
These are some of the classes for students in this academic program:
Leading the Business Enterprise
Creating Customer Value in a Digital World
Global Operations & Supply Chain Management
Top Employers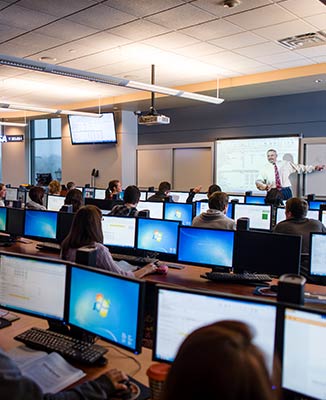 Rockwell School of Business
For nearly a century, our business students have learned to excel in a demanding professional world. With corporate connections and expert faculty mentors, our heritage is your future.
Visit School Site