Health Services Administration M.S.
Apply Today
Advance your career prospects in health administration.
The M.S. in Health Services Administration degree positions graduates for upper-level management opportunities in the expanding healthcare industry. Tremendous changes underway in healthcare delivery demand trained administrators and managers who understand how to achieve cost-effective care through process improvement and a focus on improving overall wellness. Hospitals, insurers, and other care providers all have to do more with less, and they need managers who understand the new models.
The fully-online graduate program is taught by experienced faculty and working professionals. Students are admitted in the fall, spring or summer semesters and remain in a cohort model for two years, which also creates networking opportunities with fellow students.
The M.S. in Health Services Administration is accredited by the Commission on Accreditation of Health Management Education (CAHME), which demands that academic programs meet the highest educational standards and best practices in the field. More than 96% of graduates of CAHME-accredited programs are employed after graduation, and their salaries are higher by $10,500 on average one year after earning their degree than graduates of non-accredited programs.
Having this degree gives me a really good opportunity to move into a different area if I choose to. It's really nice that it's not limiting to one specific area of health administration.

Brittney Mattis
Administrative Liaison, UPMC


HSA Virtual Open House for RMU's Master's Programs
Robert Morris University faculty and staff speak with other healthcare officials about the benefits of a Health Services Administration master's degree.
Contact Information
Samantha Monda, Ph.D., NCC, CMPC
Department Head, Psychology and Health Sciences
School of Nursing, Education, and Human Studies
monda@rmu.edu
412-397-6036
Holly Hampe, DSc, RN, MHA, MRM
Health Services Administration Program Director
hampe@rmu.edu
412-397-5483
Course Plan
Mission Statement

The Robert Morris University Health Services Administration program transforms highly qualified, diverse healthcare professionals with varying levels of experience into leaders through the development of advanced skills in management to perform in a variety of healthcare organizations. The curriculum incorporates the Quadruple Aim Framework and evidence based leadership principles. The academically and professionally prepared faculty facilitates student learning by incorporating experiential learning, applied scholarship and service activities in coursework. An emphasis is placed on internships providing individualized opportunities for the student to apply academic theories into managerial practices at successive levels of employment. Students are exposed to a variety of healthcare experiences which prepare them for increasingly responsible leadership roles in all healthcare environments.

Frequently Asked Questions

What is the format of the program and when are classes?

The M.S. in HSA program is 24 months long and offered in a cohort format. Starting in August, students take eight-week classes in the first and second session of each semester.

What does the coursework cover?

The courses in the program build a foundation for the students to obtain a mid- to upper-level management position. Topics include administration/leadership, quality and performance improvement, finance, information systems, ethics, operations management, strategic planning, healthcare policy, population health, conflict resolution and negotiation and inter-professional development and diversity.

What qualifications do the faculty have?

Full-time faculty are executive-level healthcare professionals with extensive experience in quality, patient safety and performance improvement. Dr. Hampe has a nursing background and two master's degrees and experience in risk management, patient safety, and quality management, and served as chief quality officer for a Pittsburgh-based health system that has won numerous recognitions for patient safety and quality.  Dr. Frndak has experience as a physician assistant and an M.B.A, and has served as a vice president of safety and quality as well as a vice president of organizational excellence, with experience in Lean/Six Sigma. Part-time faculty are executives in the area from the fields of human resources, information technology, research and managed care.

How are internships arranged?

During the second year of the program, the faculty advisor works closely with the student to customize an internship that meets the student's unique career focus and desires. Sites for internships have included hospital/healthcare systems, physician office practices, long term care facilities, home care organizations, insurance companies and residential care facilities.

How can I have an internship if I am already working?

In order for students to be able to continue working full-time or part-time through the program, the internship is broken into 40-hour segments in the fall, spring, and summer of the second year, for a total of 120 hours.

What kind of jobs do students typically find after completing the program?

Some students are already on a career path in healthcare and are looking for advancement into leadership/management positions, while others are looking for a career path into healthcare. Students who are interested in switching careers usually start in jobs related to their interest such as billing, compliance, patient safety, operations, data analysis, or quality improvement. More experienced healthcare professionals typically advance to management positions in their area of specialization.

What is required in the application process?

Students are required to submit their undergraduate transcripts along with two letters of recommendation and a short, reflective essay by the applicant indicating their desire for pursuing the degree. An admissions counselor as well as a financial aid counselor will be assigned to the student applicant.
Application Process

Please see our Graduate Admissions Requirements page for more information.
Competency Model

The basis for the competency model for the RMU MS Degree HSA program is from the National Center for Healthcare Leadership- Health Leadership Competency Model.  Created through the research by the Hay Group with practicing health leaders and managers across the administrative, nursing and medical professionals, and early, mid and advanced stages, it was felt this model would provide the needed foundation for this program.  The model is based on three different domains:  1) Transformation, 2) Execution, and 3) People.  Based on feedback from the HSA Advisory Board, SNHS and HSA administration and Industry experts, specific competencies from the NCHL model were selected as well as additional competencies that were specific to the HSA program, as indicated below.  It is felt that the following concepts are incorporated throughout the competencies as defined below: Human Resources, Ethics, Finance, and Legal Issues.  

Transformation

Analytical Thinking (NCHL)
Financial Skills (NCHL)
Innovative Thinking (NCHL)
Population Health (RMU)
Triple Aim (Institute for Healthcare Improvement) (RMU)
Health Economics and Policy (RMU)

Execution

Communication Skills (NCHL)
Information Technology Management (NCHL)
Project Management (NCHL)
Legal Regulatory Environment (RMU)

People

Relationship Building (NCHL)
Team Leadership (NCHL)
Professionalism (NCHL) 
Teaching, Learning, & Assessment Methods

Teaching/Learning Methods: 1)  Discussion Board Questions (written and video), 2) Focused Individual Writing Assignments, 3) Day in the Life Interviews 4) Quizzes/Exams 5) Synchronous/Simulation Exercises, 6) Weekly Learning Summaries,  7) Team Activities/Case Studies, 8) Internships/Field Assignments, 9) Reflective Papers, 10) Blogs/Journals, 11) Readings/Videos, 12) Finance or other analysis problems
 
Assessment Methods: 1) Quiz scores and feedback, 2) Presentation feedback, 3) Competency Assessments, 4) Discussion Board Rubrics. 5) Written Assignment Rubric , 6) Reflective Exercise Rubric, 7) Process Analysis Assignment Rubric,  8)Team-Self and Peer Assessments, 9) Learning Summary scoring, 10) Course participation 11) Preceptor evaluations, 12) Self evaluation and Evaluations of the Preceptor, 13) Time logs
Outcome Measures: Completion/Employment Rate

Outcomes Measures:

Degree Completion: From the inception of the program in 2014, the completion rate has been 88%. Reasons for noncompletion include health concerns/issues, work demands and family obligations.
Employment rates: From the inception of the program in 2014, 99% of the graduates were employed within 90 days of graduation. Types of positions included Vice Presidents, Directors, Project Coordinators, Managers, Business Analysts and Quality Management Specialists.

Additional student outcomes measures can be found by visiting the CAHME website.
Sample Courses:
These are some of the classes for students in this academic program:
Healthcare Policy, Law & Politics
Managing Healthcare Information Systems
Performance Improvement & Quality Management in Healthcare
Top Employers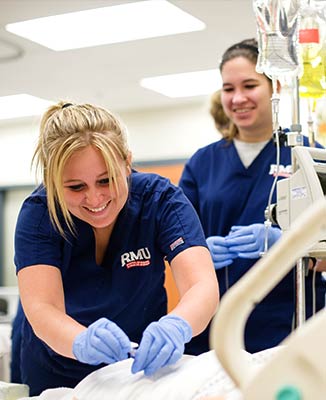 School of Nursing, Education and Human Studies
More than ever before, today's complex healthcare environment needs skilled clinicians,  expert communicators, and good people. Our students are about more than a major.
Visit School Site