How to Think Like an Entrepreneur
New head of Massey Center for Entrepreneurship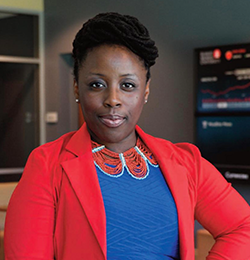 Before she became the director of the new Massey Center for Entrepreneurship and Innovation at Robert Morris University, Eliada Griffin-El spent six years as a professor in South Africa. But while her previous professorial posting was thousands of miles across the sea in a different hemisphere, Griffin-El was already very familiar with RMU.
In fact, she had visited campus twice before, for two graduate commencement ceremonies: once for her mom, Enefaa Wosu D'08, an education consultant who earned a doctorate in information systems and communications, and the other time for her brother, Hecareth Wosu M'09, a senior manager for a California utility who earned his master's in IT project management. "They both spoke so highly of it," says Griffin-El. "My mother had constantly boasted of the supportive environment when she was getting her doctorate."
The oldest of four in a family of Nigerian immigrants, Griffin-El graduated from high school in New Orleans and went to Yale to study sociology. Her family moved to Pittsburgh after her father took an engineering faculty position at the University of Pittsburgh, so she came to the city for her graduate studies, earning a master's and Ph.D. in public and international affairs from Pitt.
Then, looking for a change of scenery and "a chance to make a difference," Griffin-El took an academic post at the University of Cape Town in 2010.  There she helped to build a program for business students focusing on the concept of "social entrepreneurship" — hatching innovative business approaches to address social problems, such as the fragmentation and racial disparity that are still widespread throughout South Africa. "We're in a society where all businesses create social values of some sort," she says. "Some more than others." 
In one instance, Griffin-El had her graduate students team up and consult with a South African insurance company to identify an issue where innovation could spread social benefits. They surveyed low-income neighborhoods in Cape Town, and discovered that while residents were not interested in typical automotive or homeowner's policies, they wanted to be able to insure smaller things that were still very important to them: a family fruit stand, even a mobile phone. The company launched a pilot program to begin offering these smaller policies as a result.
With two young children, Griffin-El and her husband decided to move back to the United States in 2016, and soon after their return she was hired as an associate professor of management in the School of Business. Now she is focusing on building a core undergraduate curriculum and framework of extracurricular activities to encourage innovation and entrepreneurship in the context of professional preparation. While RMU enjoys a strong reputation in key business disciplines such as accounting and finance, students may not see themselves as entrepreneurs. With those students in mind, Griffin-El is trying to emphasize innovation within any workplace. 
"Most of the students in my classes don't raise their hand when I ask who plans to start their own venture five to seven years down the road," Griffin-El says. But as the South African micro-insurance example demonstrates, innovation and entrepreneurial habits can be useful skills not only for starting a company in your garage, but within the corporate environment. 
To encourage that mindset of creative problem-solving and breaking boundaries, Griffin-El worked with other faculty throughout the university to create several new programs. She took students to Thread International, an East Liberty business that manufactures fabric from recycled plastic collected in Haiti, helping to create jobs in the impoverished Caribbean nation; they also visited Everyday Café, a new restaurant and coffee shop in Homewood that operates completely cash-free. She worked with the School of Nursing and Health Sciences to hold a health innovation "hackathon," where teams of undergraduate students from various majors competed to solve an innovation challenge. The winning team of two engineering students and an accounting major proposed using refurbished older-model iPods to provide instructional podcasts for educating nursing students in poor countries with limited infrastructure. Griffin-El also brought local executives from Uber and Gridwise, a local firm which makes an app for rideshare drivers, to come to campus and speak to students about entrepreneurship.
The new center, funded through a grant from the Massey Charitable Trust, is actively seeking more partners who can offer site visits, judge contests, speak on campus, or act as mentors to students who want to explore innovation and entrepreneurial activity, whether on their own or from within their organization. "We are building an entrepreneurial campus," Griffin-El says. "We want to become the epicenter of an innovative ecosystem that RMU represents."