RMU Alumni Go Head-to-Head in Alliance of American Football Inaugural Game on CBS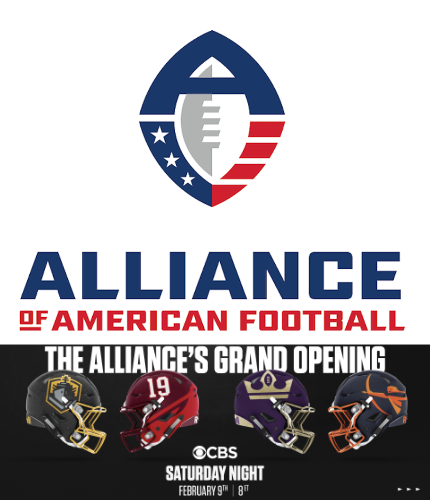 Vic Gregovits invites you to watch as his San Antonio Commanders attempt to "Beat the Fleet" of Jeff Garner in San Diego
RMU Sport Management alum Vic Gregovits ('86) and RMU School of Business alum Jeff Garner ('99) share elite camaraderie as members of the RMU Sport Management Hall of Fame, but this Saturday, February 9 they find themselves on opposite sides of a gridiron battle.

The Alliance of American Football launches its inaugural season with four games this weekend (two on Saturday and two on Sunday.) One of these celebrated matchups is between the Commanders and the Fleet and will be aired on CBS Saturday at 8:00.

With local and NFL legends such as Troy Polamalu and Hines Ward involved, along with many other football professionals, the new league is building its brand with leaders in the industry.

Gregovits is president of the San Antonio Commanders. Garner is president of the San Diego Fleet. While there is a friendship during the week, it's all business on the field.

The two have also agreed on a friendly wager for the game: the losing team president will wear the winning team's jersey pregame in the rematch on Feb. 24 in San Diego. In addition, the losing president will donate $500 to a military organization in the city of the winning team.

Dr. David Synowka, Department Head of Sport Management, has maintained his relationship with both alums and is proud of how well these RMU graduates have done in the industry. Recently Gregovits requested Dr. Synowka spread the word of joining him to "Beat the Fleet!"
For more information on the Alliance of American Football you can visit the website AAF.com . More from the official Press Release is below:

Led by some of the most respected football minds in the game, The Alliance of American Football is a dynamic professional football league fueled by an unprecedented Alliance between players, fans and the game. Founded by TV and film producer Charlie Ebersol and Hall of Famer Bill Polian, The Alliance will feature eight teams with 52-player rosters playing a 10-week regular season schedule in the spring beginning February 9, 2019 on CBS, followed by two playoff rounds and culminating with the championship game the weekend of April 26-28, 2019.
 
The eight cities, stadiums, and head coaches are as follows:
Orlando Apollos / Spectrum Stadium / Steve Spurrier
Atlanta Legends / Georgia State Stadium / Brad Childress
Memphis Express / Liberty Bowl Memorial Stadium / Mike Singletary
Salt Lake Stallions / Rice-Eccles Stadium / Dennis Erickson
Arizona Hotshots / Sun Devil Stadium / Rick Neuheisel  
San Diego Fleet / San Diego County Credit Union Stadium / Mike Martz
Birmingham Iron / Legion Field Stadium / Tim Lewis
San Antonio Commanders / Alamodome / Mike Riley
 
Fans will be able to stream Alliance matchups live via the free Alliance app while accessing integrated gaming options with real rewards — for themselves and the players they are cheering on. With a focus on player well-being on and off the field, The Alliance will provide players with a commitment to safety and state-of-the-art equipment as well as a comprehensive bonus system, post-football career planning, financial counseling and scholarship support for postsecondary education. For more information, visit aaf.com.