Crash and Learn
Student glider competes in Red Bull Flugtag.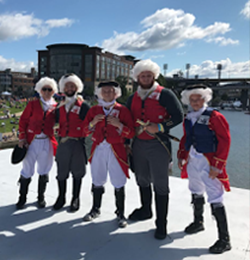 A team of five mechanical engineering students — Roger Pogoda, Luke Schubert, Madison Parks, Nick Mummau and Drew Garbenis — finished 9th out of 37 teams at the Red Bull Flugtag competition during the Three Rivers Regatta on August 5.
Red Bull Flugtag challenges entrants to design, build and pilot homemade flying machines off a 22-foot-high flight deck. Teams are judged on flight distance, creativity of the craft, and showmanship. This was the first time the flying-contraption competition has come to Pittsburgh.
Over the course of three months during the summer, the engineering students constructed a huge glider with a 20-foot wingspan. During the competition, the students performed a brief skit where they were dressed as Colonial and British soldiers and battled it out on top of the flight deck. Pogoda then piloted the glider 45 feet before plunging into the Allegheny River.
"I went through a whole spectrum of emotions in the span of about 4 seconds," says Pogoda. "You don't realize how high two stories is until you're pushed from that height in a homemade glider! It was such a cool, unique experience that was made even better by the fact that I got to do it while representing RMU."
Project advisor Dr. Tony L. Kerzmann says the Flugtag competition was a once-in-a-lifetime opportunity for him and the students. "It combined engineering, creativity, craftsmanship, and even theatrics," says Kerzmann, RMU associate professor of Mechanical Engineering and co-director of SEMS-ROC (Outreach). "The entire production lasted less than a minute, but it took a team of RMU students months of hard work, planning, meetings, and hundreds of hours of time. The amazing, hands-on, experiential learning they received was invaluable."