Debate Comes to Campus
GOP candidates for 44th Pa. House District debate in Hopwood Hall.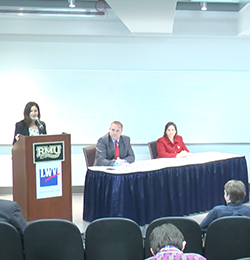 The four Republican candidates trying to replace retiring state Rep. Mark Mustio debated each other in a candidate forum at Hopwood Hall on April 12 broadcast live online by RMU-TV.
Moon supervisor David Bachman, North Fayette supervisor Bob Doddato, former Moon Area School Director Scott LaRue, and Aleppo Township resident Valerie Gaydos took turns laying out their ideas for the state office and answering questions at the forum, sponsored by RMU and the League of Women Voters of Greater Pittsburgh.
The district includes Moon, Crescent, Findlay, North Fayette, Aleppo and Ohio townships, as well as Sewickley, Edgeworth, Bell Acres, Sewickley Heights, Sewickley Hills, Glenfield, Haysville and Glen Osborne.
"This free exchange of ideas is something that makes our democracy vibrant and strong," said Dr. Phil Harold, professor of political science and interim dean of the School of Education and Social Sciences.
The debate was moderated by Cristina Beuger, a board member of the League of Women Voters. 
Gaydos won he May 15 primary, narrowly beating Bachman. She will face Democrat Michele Knoll of Ohio Township in November.