SIHSS Student Recognition Awards Ceremony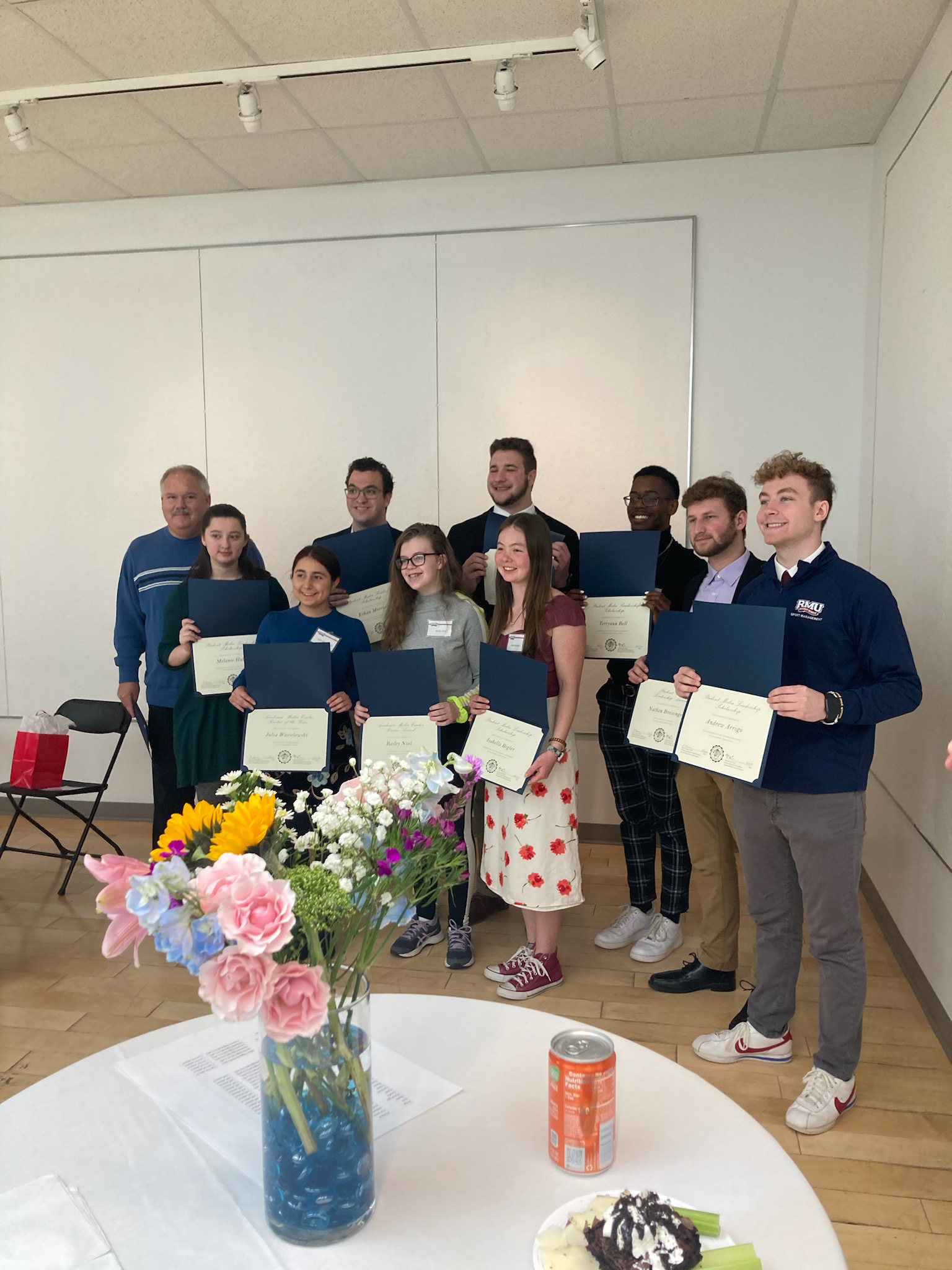 On April 20, 2022, SIHSS held the annual Student Recognition Awards Ceremony in the Wheatley Center Atrium. A number of students were honored at this ceremony.
Dean Ali, and a number of faculty from the CIS, Social Sciences, Arts and Humanities, Communication and Organizational Leadership departments, as well as the Academic Media Center presented the Student Awards.      
Dean's Scholar Awards: Riley Carroll, Hannah Clark, Kristen Davis, Caylee Jackson, Draven Marino
Outstanding Graphic Design Student Award: Domenico Scalise
Outstanding UX-UI Major Award: Emma Crites
Outstanding Cinema & Photography Award: Sarah Gabany
Outstanding English Studies Major in Writing Award: Natalie Villaflor
Outstanding English Studies Major in Literature Award: Danielle Connors
Jan Kenton Memorial Scholarship: Julie Ceoffe
Thomas A. Marshall Memorial Scholarship: Mackenzie Hill
CIS Outstanding Graduate Student Award: Andrew Salley, Taylor Scalise
CIS Outstanding Undergraduate Student Award: Sylvia Dawson, Benjamin Gaudlip, Gavin Hartman, Brandon Schuh, Glenn Wallace
Communication & Organizational Leadership Professional Focus Award: Connor Lawrence, Sydney Smith
Communication & Organizational Leadership Academic Achievement Award: Draven Marino, Kari Stoltenberg
Communication & Organizational Leadership Service Award: Nicholas Capito
Outstanding Student in Criminal Justice Award: Christina Marth
Outstanding Student in Economics Award: Kahliel Spear
Outstanding Student in Political Science Award: Hunter Bailey
Outstanding Student in History Award: Donald Germano
Social Sciences Endowed Scholarship Award: Matthew Wollett
Academic Media Center Leadership Award: Michael Delehanty,
Student Media Leadership Award: Nathan Breisinger
Academic Media Center Service Award: Bailey Noel
Student Media Service Award: Samantha Dutch
Academic Media Center Rookie of the Year: Nathan Kingston, Evelyn Luthringer, Julia Wasielewski
SIHSS Student Media Leadership Scholarships: Andrew Arrigo, Hope Beatty, Terryaun Bell, Isabella Bigler, Michael Depace, Wyatt Fiedler, Tyler Gallo, Melanie Hulse, Evelyn Luthringer, Ethan Morrison
Congratulations to all of the recipients!
April 20th Awards Ceremony Live Stream on Youtube.