Nursing B.S.N. (Second Degree)
Apply Today
For students who have already earned a bachelor's degree and now desire a career in nursing, the second degree program can be completed in as little as 15 months. The program builds on natural and behavioral sciences, integrating liberal arts and professional courses with clinical experiences in community and hospital settings. Students to develop strong technical skills, clinical judgment, and critical thinking in preparation for the R.N. licensing exam.
The program has a strong technological component. Students learn to care for patients in RMU's Regional Research and Innovation in Simulation Education (RISE) Center. They also have the opportunity to travel internationally to better understand global health issues.
Contact Information
Katrina A. Pyo PhD, RN, CCRN
BSN Program Director
pyo@rmu.edu
412-397-6812 phone
Admissions Requirements
Course Plan
Pre-Requisite Information

The student must complete the following required pre-requisite non-nursing courses (30 credits) prior to the start of the nursing major:    

Statistics - 3 credits
Anatomy and Physiology I with lab - 4 credits
Anatomy and Physiology II with lab - 4 credits
Microbiology with lab - 4 credits
Human Growth and Development - 3 credits
Nutrition - 3 credits
Pathophysiology - 3 credits

However, the following course may be taken during the 15-month nursing program.

Healthcare Information System - 3 credits
Advanced Placement/Standing Coursework

By virtue of the achievement of the first undergraduate degree, the applicant will receive transfer credit or advanced standing for all of the following courses (36 credits):   

General Psychology - 3 credits
Literature - 3 credits
Sociology - 3 credits
Economics - 3 credits
History/Political Science - 3 credits
Arts/Humanities - 3 credits
Open Electives - 6 credits
Communication Skills - 12 credits
Sample Courses:
These are some of the classes for students in this academic program:
Introduction to Professional Nursing
Nursing Care - Children & Families
NCLEX Licensure Prep Success
Communication Skills, Economics, Humanities, History, Sciences, etc.
Top Employers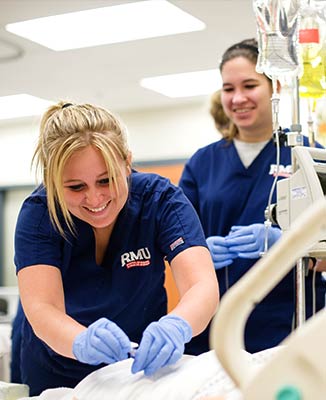 School of Nursing, Education and Human Studies
More than ever before, today's complex healthcare environment needs skilled clinicians,  expert communicators, and good people. Our students are about more than a major.
Visit School Site