Business Administration B.S. (Marketing & Management)
Apply Today
The B.S. in Business Administration with a concentration in Marketing & Management features a balanced blend of professional application with intellectual theory, building the necessary skills to respond to the changing needs of business. Faculty members bring real-world experience to the classroom, and the state-of-the-art facilities give you hands-on experience in a corporate setting. With the 4+1 integrated degree program, students can go on to earn their M.B.A. with only one additional year of study.
Graduates go on to work in commercial banking, financial, insurance, investments, sales, and consulting. Jobs include auditor, loan officer, analyst, real estate appraiser, stockbroker, lobbyist, statistician, insurance agent, product manager, and underwriter.
Interested students in this course of study may be eligible for the Early Law School Admission Program.
4-Year Course Plan
Sample Courses:
These are some of the classes for students in this academic program:
Integrated Marketing Communication
Entrepreneurship & Innovation
Human Resource Management
Accounting, Marketing, Management
Communication Skills, Economics, Humanities, History, Sciences, etc.
Top Employers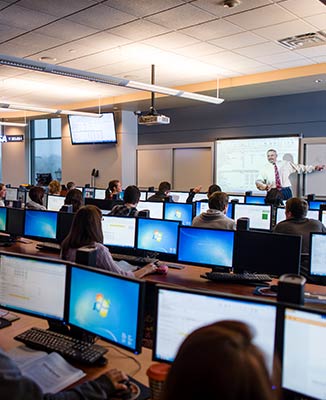 Rockwell School of Business
For nearly a century, our business students have learned to excel in a demanding professional world. With corporate connections and expert faculty mentors, our heritage is your future.
Visit School Site