News and Sports Communication B.A.
Apply Today
Develop the anchoring, writing, reporting, editing and leadership skills required to thrive in today's media environment. 
Create content across different media platforms, practice your professional skills, and critically analyze the role of news and sports in our culture and society.
The B.A. in News and Sports Communication prepares you for an exciting career in news or sports media. Courses blend current media practices in writing, reporting, and media technologies. You study the leadership skills needed to work and lead in diverse newsrooms and other media environments in local and global contexts and graduate with a professional portfolio that showcases examples of your professionally focused work.
Multidisciplinary Focus: Complement your news and sports expertise with elective courses in other disciplines, including organizational leadership, social sciences, and arts and humanities. Students complete either a minor or a double major in addition to the B.A. in News and Sports Communication.
Hands-on Experience: You are the anchor, the reporter, the producer, the editor ,as well as the performer of many other media roles supplementing your classroom work. You make the same content and production decisions professionals make every single day through various hands-on opportunities at the Academic Media Center, RMU Sentry Media, RMU Radio, RMU-TV and the Colonial Sports Network. To further enhance your professional experiences, we strongly encourage you to complete at least one off-campus internship as part of your coursework.
Faculty Professionals: You study with professors who have worked in newsrooms for many years, those who analyze the field of news and sports communication, and those who remain active in the profession. They provide you with a professional and critical understanding of today's media, preparing you with their mentorship for your successful entrance and career.
High Job Placement Rate: You can find our graduates across the country working as media professionals at local television stations, with professional sports organizations, and in other media fields.
Degree Requirements and Courses

The BA in News and Sports Communication is a 120-credit degree program. You begin courses in your major in your first semester and are expected to complete your degree in four academic years. You can get involved with student media on your first day on campus, and we encourage you to do so. 

View Guided Curriculum  View Printable Course Sheet

RMU CORE COURSES - 39 CREDITS REQUIRED

CSEN; or CSCM1010; or 2050    Reading & Writing Strategies; OR Intercultural Communications (Honors section: CSHR2050)    3
CSEN1020    Argument & Research (Honors section: CSHR1025)    3
CSCM1030    Public Speaking & Persuasion (Honors section: CSHR1030)    3
CSCM2040    Professional Communication in Workplace (Honors section: CSHR2040)    3
ECON1010    Survey of Economics (Honors section: ECON1015)    3
MATH; or STAT1050; or 2110    Math Reasoning with Applications; OR Statistics (Honors section: STAT2125)    3
SOCI1010; or 1020    Principles of Sociology: OR Contemporary American Social Problems (Honors section: 1025)    3
HIST; or POLS; or  History elective; select from HIST1100, HIST1200, HIST1500, HIST1600, HIST1700, HIST1800 (HNRSL HIST1105); OR Political Science elective POLS 1020 American National Government (HNRS: 1025)    3

NEWS AND SPORTS COMMUNICATION  - 48 CREDITS REQUIRED

Minimum grade of "C" must be earned for each course

CORE COURSES - 9 Credits Required

COMM1500    Ethics, Technology and Culture    3
COMM2030    Communication Theory    3
COMM2900    Research Methods in Communication    3

REQUIRED COURSES IN THE MAJOR - 39 Credits Required

Writing Intensive Courses - 12 Credits Required

NSSC1500    Media Writing and Reporting I    3
NSSC2000    Broadcast and Online Reporting    3
NSSC2500    Media Writing and Reporting II    3
NSSC 4010    Mass Media Capstone    3

News and Sports Courses - 9 Credits Required

NSSC 1000 (Media and Society) or COMM 2010 (Communication and Sport)
NSSC 3500 or NSSC 3085    Interaction of News, Politics and Media; or Interaction of Sports, Politics and Media    3
NSSC 4000 or NSSC 3065 Investigative Reporting; Sports Reporting

Interdisciplinary Course - 3 Credits Required

ORGL 3700    Leadership and Communication    3

NSSC-Recommended Courses - 15 Credits Required

NSSC 3075    Journalism Abroad/FLEAP    3    15
NSSC4903-09    NSSC Internship (max of 9 credits)    3    
ORGL1100 Introduction to Leadership and Followership   3
ORGL1200    Diversity/Multiculturism in Organizations    3    
ORGL2000    Leadership & Popular Culture    3    
ARTM2020   Digital Imaging    3    
ARTM2400 and co-req ARTM0240    Field Production; and Field Production Lab    3, 0    

ELECTIVE COURSES - OPEN ELECTIVES - 33 CREDITS REQUIRED – recommended a minor or double major

Program Learning Outcomes

Program Educational Objectives - Upon completion of the BA in News & Sports Communication, students will be able to:

Anchor, report, write, produce or edit news or sports content for local, national or online news agencies;
Serve as play-by-play announcers for collegiate and professional teams;
Demonstrate competence with social and digital media technologies used by professional organizations and communicators;
Apply theories of leadership, cultural competence, and diversity to challenges organizational leaders and followers face in a globalized world;
Promote diversity and multiculturalism in all aspects of their work;
Advocate for the First Amendment and professional codes of ethics.

Graduates of the program will

know how to prepare a live or taped news or sports program, and understand each person's role in delivering that program;
fulfill multiple production roles on live news or sports programs;
affirm ethical principles in every aspect of their professional work;
comfortably use technologies required to complete their assigned tasks;
ensure social media platforms contribute positively to communications;
function effectively on teams;
communicate effectively with a range of audiences;
understand the importance of life-long learning;
recognize the importance of diversity and inclusion;
aspire to take on leadership/management roles in their places of work and in professional organizations.

 
Five years after graduation, the graduates should be:

Employed in a local, statewide or national newsroom as an anchor, reporter, editor, producer or manager, or serving as play-by-play announcers for a collegiate or professional team;
Assuming positions of leadership within their newsroom and with appropriate professional organizations;
Advocating for the First Amendment;
Promoting diversity and inclusion in all aspects of their professional lives;
Advancing their careers via continuous learning and professional development through the attainment of professional certification, professional study and research or graduate education;
Mentoring the next generation of aspiring communicators.

Demand for News and Sports Communicators

The projected employment (2019-2029) in numbers is almost 50,000 jobs for reporters, correspondents and news analysts, with the average salary for current professionals ranging from $50,000-$70,000 (https://www.bls.gov/oes/current/oes273023.htm). Student media and internship experiences as well as multimedia journalism competency support hiring prospects.

May 2020 Examples:

mean annual wage estimate for news analysts, reporters and journalists - $66,000
median annual wage for reporters, correspondents, and broadcast news analyst - $49,300

median annual wage in the top industries for reporters, correspondents, and broadcast news analysts:

other information services - $73,300
radio and television broadcasting - $55,030
newspaper, periodical, book, and directory publishers - $37,900

median annual wage in related industries

for writers and authors: - $67,120

in a top industry for writers and authors: performing arts, spectator sports, and related industries - $82,350

for broadcast announcers and radio disc jockeys  - $49,730

in a the top industry for broadcast announcers and radio disc jockeys: television broadcasting - $55,650

Sources: Bureau of Labor Statistics, U.S. Department of Labor, Occupational Outlook Handbook:
Correspondents, and Broadcast News Analysts, at https://www.bls.gov/ooh/media-and-communication/reporters-correspondent… (visited April 09, 2021);
Writers and Authors, at https://www.bls.gov/ooh/media-and-communication/writers-and-authors.htm (visited April 09, 2021); Bureau of Labor Statistics, U.S. Department of Labor, Occupational Outlook Handbook, Announcers, at https://www.bls.gov/ooh/media-and-communication/announcers.htm (visited April 09, 2021).

Career Preparation

Students studying journalism or sports communication in our department have been recognized with many awards for their work, including by the College Media Association, the Broadcast Education Association, the Pennsylvania Association of Broadcasters and many more. Today's award winners are tomorrow's successful and recognized media professionals.

As a graduate of RMU's Bachelor of Arts in News and Sports Communication, you may pursue careers in legacy and new media organizations, and in roles ranging from content managers to reporters. You might find yourself doing play-by-play work for broadcast media or managing the social media feeds of a collegiate or professional sports team. You will advocate for the First Amendment. From day one n your professional career, you will be prepared to lead and succeed.

Admissions, Tuition and Scholarship Information

The minimum GPA is 2.75 
Applicants with a GPA of 2.74-2.50 are considered for admission on a case by case basis.
SAT and ACT testing scores are now optional for freshman applicants.

Networking, Internships and Professional Opportunities

Networking, internships and professional opportunities are available throughout the program.

Students pursue internships with news agencies and professional sports organizations especially throughout the Pittsburgh region, but are not geographically limited in their internship opportunities. 
RMU Sentry Media, RMU Radio and RMU-TV offer opportunities for paid managerial positions.
Internships at The Washington Center
Academic Honor Society: Society of Collegiate Journalists
Work-study and scholarship opportunities

Meet the Faculty

The School of Informatics, Humanities and Social Sciences faculty is a team of dedicated teacher-scholars, award-winning artists, practitioners, and academics who are committed to your long-term success.

Anthony Moretti, Ph.D.
Associate Professor of Communication
Interim Department Head, Communication and Organizational Leadership
email: moretti@rmu.edu

Petros Malakyan, Ph.D.
Associate Professor of Organizational Leadership
Communication and Organizational Leadership
Email: malakyan@rmu.edu

Testimonials

Brooks Bratten, Class of 2013
Senior Communications and Content Coordinator, Nashville Predators
"I simply wouldn't be where I am today without my time spent in the journalism and communication program at RMU. The knowledge I gained in the classroom through challenging coursework and caring professors, combined with the real-world experience I gained from participating in extracurricular activities at RMU set me up perfectly for an internship that led directly to my career. Work hard, be kind and embrace what RMU has to offer. You'll be glad you did."

Kayla (Sample) Courvell, Class of 2015
Anchor, Reporter, WHIO-TV, Dayton, OH
"I left RMU with more than a resume that helped me get a job before I graduated. My experience had me hitting the ground running (literally). I learned from professors who were in the business. I had actual field experience for my demo reel, and I had internships with Pittsburgh media outlets. By graduation, I was prepared to negotiate a contract, and I knew how to market myself in an interview. I jumped at the opportunity to do a live report on the third day at my first job."

Leah (Fleischel) Zaleski, Class of 2016
Digital Media Manager, WTAE-TV, Pittsburgh, PA
"The RMU journalism program didn't just teach the fundamentals, it got students out in the community and allowed us to actually be journalists. Add in all of the fantastic opportunities and mentorship available through RMU Sentry Media and RMU TV, and you get a full experience that really prepares you for a career in a newsroom."

Gage Goulding, Class of 2019
Anchor, Reporter, NBC-2, Fort Myers, FL
"There's one thing that's critical in the field of journalism: being able to learn and adjust quickly. Robert Morris University not only teaches you that through academic coursework, but also through hands-on, real life experiences. Having the ability to work in a real-life newsroom serving both an online newspaper and TV station gave me the opportunity to learn, grow and expand my skills in the field at my own pace and with expert help."

Delaney (Hassell) Healey, Class of 2018
Digital Engagement Associate, WQED-TV, Pittsburgh
"The opportunities that RMU's journalism program gave me are ones I truly don't think I could have gotten anywhere else. RMU Sentry Media and RMU-TV fully prepared me for working in broadcast media. The hands-on experience I gained from being part of these programs helps me every day at my full-time job. Skills such as writing, interviewing, editing, producing, and so much more, I gained through my four years with RMU's journalism program."

Dan Kitchen, Class of 2016
Sports Editor, The Record-Argus, Greenville, PA
NFL Draft Writer, The Brawl Network
"The RMU faculty threw me into the fire on day 1 and gave me the opportunities to learn outside the classroom. Assigned to cover events in the community, I got all the on-the-job experience I could ask for over four years, and I still use skills I learned doing those assignments every day as a professional. Getting that kind of experience through class, and being able to be a part of RMU Sentry Media, RMU Radio, and RMU-TV covering sports, helped me learn everything I needed to succeed as a professional journalist and media member."

John Klocko, Class of 2013
Manager of Coverage and Content, WHBQ-TV, Memphis, TN
"Unlike many other schools, RMU allows new students to get involved on day one and not wait until sophomore or junior year to dive in. I was able to dabble in print and television and immerse myself in the inner workings of both. Ultimately, I discovered that television was my passion, but who knows where I'd be if I didn't have the chance to fully explore, learn, and try all forms of media from the get-go."

Christina Kowalski, Class of 2019
Event Coordinator, Total Sports Enterprises, Pittsburgh, PA
"Robert Morris University sets the standard when it comes to Sport Communication. Because RMU encourages team projects, I was able to learn many skills that I use daily in my workplace. The flexibility of the Sport Communication program and its ability to combine with other majors and courses made it a perfect fit for me. 
The faculty and staff also help provide countless extra educational opportunities for students. I was able to secure two internships (which led to my full-time job), an editor position with the school paper, and an experience with the College Football Playoff Committee while at RMU."

Chris Mueller, Class of 2016
Content Writer, Matter Communications, Pittsburgh, PA
Freelance sports reporter, Pittsburgh Post-Gazette
"RMU's journalism program fostered critical professional opportunities that enabled me to start and sustain a career in the sports media and PR industries. From impactful journalism coursework taught by engaging professors to extensive real-world experience afforded by the student media program, RMU provided the resources I needed to diversify my skill set and discover my voice as a writer. I will always value the lessons learned and relationships formed during my time at Robert Morris."

Hannah Smith, Class of 2016
Digital Content Producer, NBC-12, Richmond, VA
"Being able to learn from real journalism professionals and work with RMU Sentry Media were the biggest assets that the program offered. The time I spent working at The Sentry and RMU-TV allowed me to build the skills I needed to land my first job as a Digital Content Producer at WPXI in Pittsburgh before going on to be an MMJ/Reporter in State College, then eventually returning to digital content at WWBT in Richmond."
Sample Courses:
These are some of the classes for students in this academic program:
Top Employers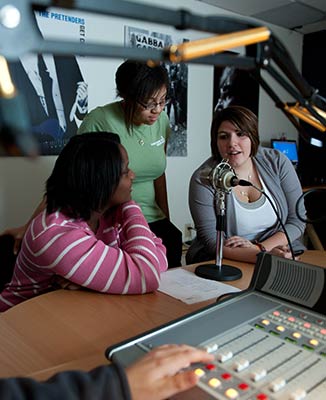 School of Informatics, Humanities and Social Sciences
Focus on delivering information in a way that makes an impact. Create images that capture attention, compose words that inspire, and design technology that changes how we live.
Visit School Site