Colonial Couple Stories
We want to hear your love story!
We know your connection to RMU is strong. Not only did you receive a great education here, but this also is the place where you met the love of your life.
Alumni couples share a very special bond with each other. Both partners being graduates of RMU has its perks – you just know what your partner is talking about when referring to a place on campus, a piece of history or tradition, or that professor who made a major impact. You both have a deep understanding of the RMU culture. College is an unforgettable experience that creates lifelong friendships and for some, a romantic partner or even a spouse!
We are asking alumni to share their stories of how they met their spouses or partners while they were students at RMU. We want to know the details; share your story.
Every couple has a great story - and the stories of Colonial Couples are the best! Congratulations to our winners!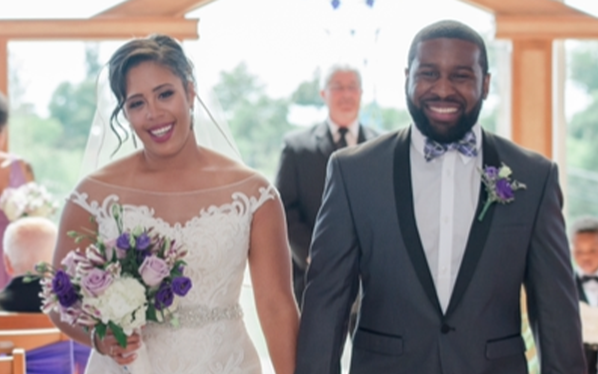 Myles '11 M'14 & Alexandrea Stovall '12 Russ
When Myles Russ '11 M'14 charged across the goal line at Joe Walton Stadium 11 years ago, scoring a touchdown versus crosstown rivals Duquesne and becoming the Colonials' all-time leading rusher on the same play, two key people in his life were cheering on the sidelines.
One was his running backs coach, Sam Dorsett '03, whose career rushing record Russ had just broken. The other was the cheerleader who was dating Myles and would eventually marry him, Alexandrea Stovall Russ '12.
The Colonial Couple now live happily in Lake Worth, Fla., where they are the proud parents of a three-year-old daughter, Averie. Myles is assistant head coach football coach at Keiser University in West Palm Beach, and Alexandrea is a middle school history teacher near Boca Raton, the town where Myles grew up. The two had many wonderful moments in their RMU days, including the memorable October day during the Colonials 2010 championship season when Myles set the team rushing record — which still stands — in front of his mentor and his girlfriend.
First and foremost is their wedding in Rogal Chapel in 2016. "We met on campus and had so many memories of campus, so it was really a no-brainer," recalls Alex, an Erie native. Myles agrees: "Pittsburgh just molded us so much, coming in as kids and leaving as young adults. That was a cool milestone to get married at Robert Morris."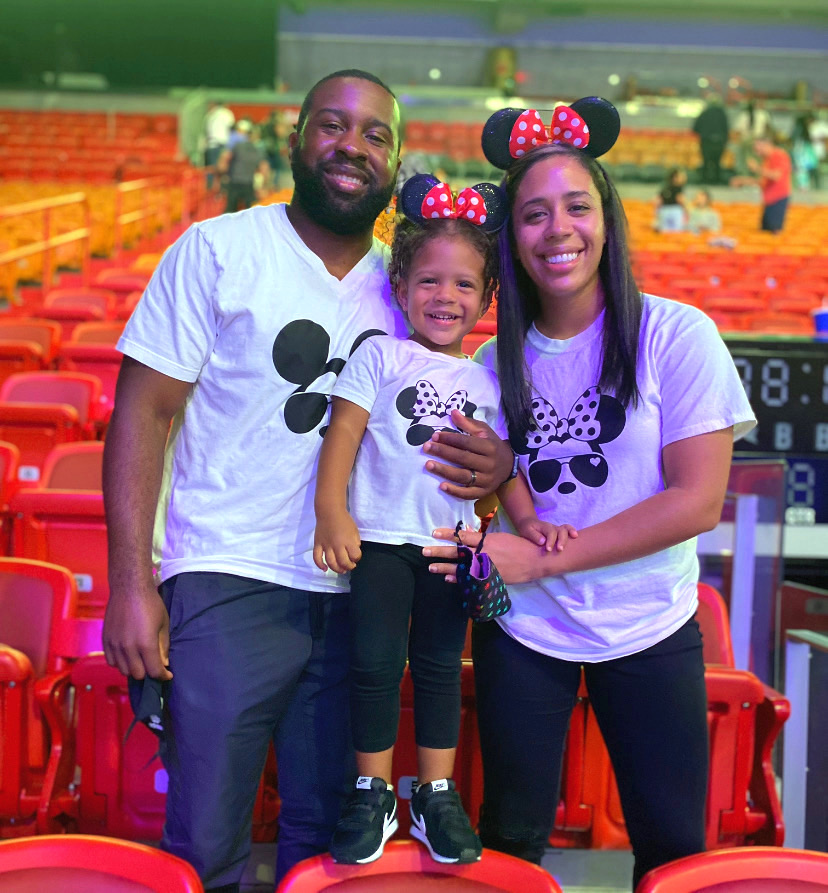 Both remember the fall dance at John Jay where they first spotted each other. They were Facebook friends soon after, but it wasn't until a year later that they became more than friends. That happened when Alex discovered her phone contacts had been accidentally deleted and took the opportunity to ask Myles for his digits.
"She's more of the go-getter type," Myles says. "She used that on me, and the feelings were mutual. She always makes sure she tells everybody she's the one who got my number, and I definitely have to give her props on that. But I'm glad that she did that."
A business major, Myles was a year ahead of Alex, who majored in psychology. Their relationship became long distance her senior year after he moved back to south Florida to take a job with an aviation company. Then he returned to Robert Morris, earning a master's in instructional leadership and coaching the Colonials running backs while Alex earned a master's in psychology at Chatham. They headed back to Florida together in 2017 when Myles was offered the chance to launch the new football program at Keiser, and a year later their daughter was born.
"My life wouldn't be where it is now without Robert Morris," he says. "I thought it was going to be 4 years and out, but it ended up being 10 years and we met so many great people. I tell our story to the players here — I say you just don't know what will happen when you come to school. You might meet your wife, one of your best friends, maybe get your graduate degree too, like I did. So many opportunities can stem from one decision."
Alex switched career directions after the move and is in her fifth year teaching at Eagles Landing Middle School, which has some 1,500 students. In addition to her 6th grade world history class, this fall Alex was asked to start a new 8th grade honors class on African American history. "Putting people in a different frame of mind for me is huge. The kids are really taking to it well, and I'm learning almost simultaneously with them as I prepare the lessons," she says. "Being a student again is my favorite part, and being able to share my excitement with the kids."
More Colonial Couple Stories