Alum of the Month: Amy Williams Scheuneman '03
Former Colonial heads the WPIAL, which is facing a high school sports season with no fans — and maybe no games.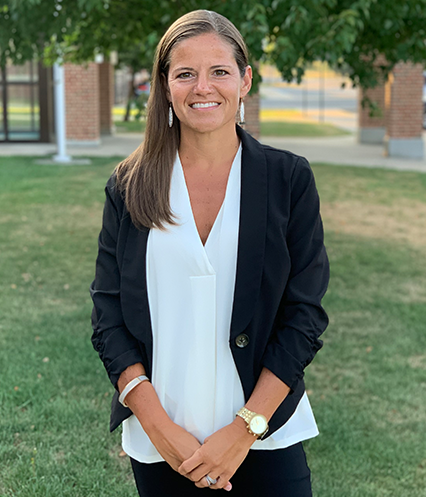 If you are still getting adjusted to sports without crowds, imagine what it's like for the athletes. Amy Williams Scheuneman '03 is thinking about that more than most. The new executive director of the Western Pennsylvania Interscholastic Athletic League is about to experience her first fall in charge of all boys' and girls' high school sports in the Pittsburgh region, and her thoughts are with players who are about to compete in front of empty stands — if they get to compete at all.
The fall sports calendar, already delayed to enact safety measures, was put in doubt last week when Gov. Tom Wolf recommended at a Thursday news conference that all high school sports be sidelined until January at the earliest. The PIAA board of directors on Friday delayed the start of high school sports another two weeks while it seeks clarification.
Amy, a former multisport athlete at Plum and former member of the Colonials indoor and outdoor track and field teams and women's soccer teams, says she learned long ago that while fans are exciting and energizing, players have to rely on themselves.
"I think there has to be intrinsic motivation to play your best and defeat your opponent," she says. "Of course loud crowds energize you, but ultimately you're the one out there playing so you have to find the motivation from within, or from your teammates and coaches. … The game won't change, but the attitudes of the players certainly will."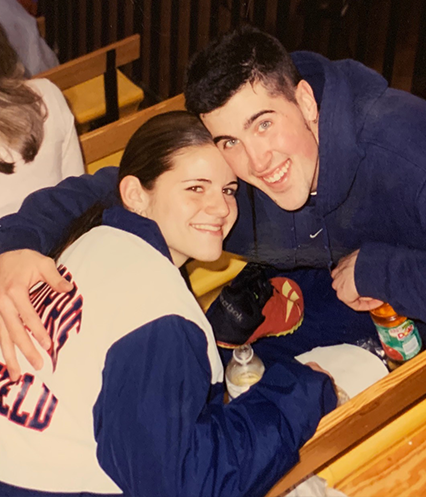 Even a truncated sports season still allows athletes the opportunity to set goals, overcome adversity, and learn the life lessons of teamwork, leadership, and sacrifice. "Not everybody's going to win a championship, but everybody can have a season of significance," Amy says. "How are you going to make your season significant in your life?"
Amy came to RMU on scholarship to play on the soccer team. She also walked onto the indoor and outdoor track teams, where she took on the challenge of pole vaulting, which had only just been opened to women competitors. Her biggest triumph was the team winning the 2000 NEC championships in indoor track, but she is also proud of having started every position on the team during her career — except goalkeeper. And even there, she managed to persuade her coach to put her in goal the last five minutes of a late-season match where the Colonials were down by four goals.
There were other significant moments, such as a 10-day tour of France the soccer team took during her senior season, playing friendly matches against French teams and seeing the Louvre, Versailles, and the Eiffel Tower.  The most significant moment was meeting Paul Scheuneman '04, an accomplished runner on the men's track team. The Colonial Couple have been together ever since, and live in Robinson with their 6-year-old son, Paul.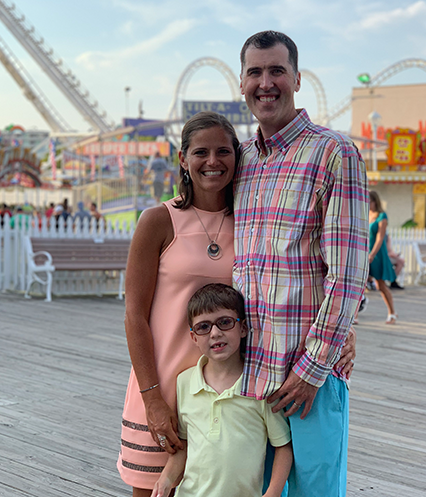 Amy hoped to be a school athletic director one day when she chose to major in sport management, but her dream came true a lot faster than she'd imagined it would. Her instructor at RMU, Dan Cardone, was also the athletic director of North Hills High School, and he helped her get an internship with him. After graduation she took an offer to be athletic director of Avonworth School District, then a supplemental, part-time position. Amy covered some classes, coached middle school soccer, and worked at guest services at Heinz Field to make ends meet. By the time she left that position, she had persuaded the school to make the position full-time.
She then was athletic director at Bethel Park for 10 years and joined the WPIAL board of directors. Amy returned to North Hills for the AD job in 2016, then last year was named associate executive director of the WPIAL, a successor-in-waiting to Tim O'Malley, who retired this year.
Now her oversight extends to the sports programs of 145 school districts and an estimated 80,000 participating athletes. It's a big job, but Amy says she wouldn't want to be anywhere else. "I have no desire to move on to the collegiate or professional ranks in sports" she says. "At those levels you lose the love of the game because so many other things cloud the vision. I prefer the amateurism, the fun, the camaraderie, and everything good that happens in high school sports."