Alum of the Month - April 2019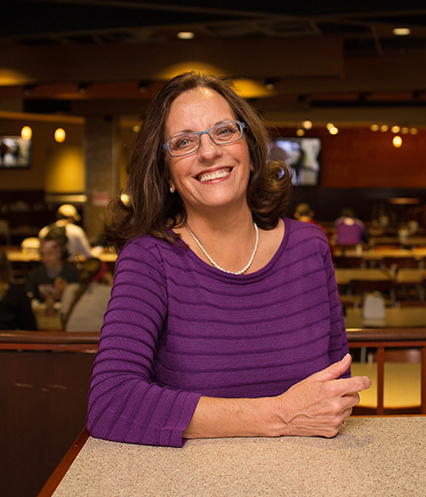 "I have met so many great people and those friendships will continue outside of Robert Morris."
If you've been to a Robert Morris University alumni event in the past 20 years, there's a good chance you've seen Mary Gerard M'05 welcoming guests or speaking at the podium. As director of the RMU alumni relations office, Mary has served as liaison between Robert Morris graduates and their alma mater, keeping them connected to their university through various events.
Mary is retiring later this month and looks forward to coming back to university events as just an alumna – not the person running the events. 
"I love meeting alumni and other Colonials, and I have made amazing friends," says Mary. "I have met so many great people and those friendships will continue outside of Robert Morris."
But Mary's loyalty wasn't always to good old Bobby Mo. Growing up in Indiana, she became a Hoosier at Indiana University and studied criminal justice. Shortly after earning her degree she spent a decade as a police officer at the IU Indianapolis campus, rising to lieutenant. 
As she and her first husband began to start a family, she wanted a career with a more stable schedule and went back to IU to become a registered dietitian. Mary spent a year working at IU Medical Center while also serving as dietitian for a local school district, and a nutritionist for Women, Infant, and Children (WIC). 
Her husband was later relocated to Pittsburgh and Mary picked up a part-time job in Robert Morris's new Freedom Card office, printing all the new ID cards for faculty, staff, and students. She then took a part-time job in the registrar's office for a short stint before planting herself in the alumni relations office. 
While working in her new role she earned a master's in nonprofit leadership management. Since then Mary has gone on to welcome thousands of Colonials back to campus and to alumni events across the nation. 
"We not only bring programs to Pittsburgh alumni, but host events in Washington, Cleveland, Erie, Harrisburg, and even Florida," Mary says. "I'm proud that I was able to help connect so many people."
Of all the alumni that she's come to know over the past 20 years, one stands out more than the rest – her current husband, George Beidler '74.
"George used to volunteer at the RMU golf outing fundraiser and would come by my office to get supplies," says Mary. "So I started inviting him to all the Robert Morris events and we eventually started dating." 
Now Mary has her own family of Colonials. Alongside her and George, her two sons, Dale and Samuel, and stepson, Tim, have either a certificate, bachelor's, or master's degree from Robert Morris.
She is a President's Council member, meaning she donates at least $1,000 to an academic program or scholarship annually, supporting the Alumni Endowed Scholarship Fund.
"I give to this scholarship because I've seen it grow from benefitting one student a year, to now benefitting eight students. I'm proud to say that because of the support from alumni, it's turned into one of the largest funds at the university."