Alum of the Month: Bob McCutcheon '91
Retired from accounting, Bob built a slick recording studio to boost the Burgh's music scene.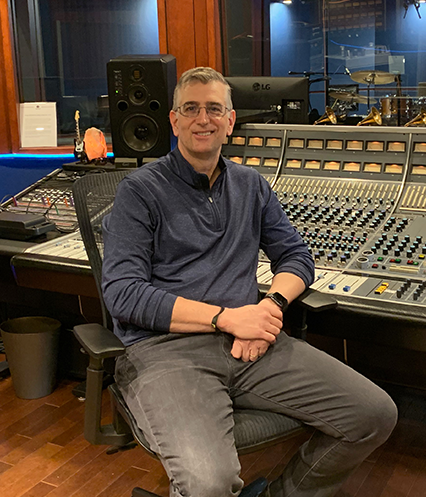 He took an unusual career path to the music business, but Bob McCutcheon '91 says the music was always in him.
McCutcheon is the founder and CEO of The Vault, a professional recording studio and indie record label that counts "The Voice" third-place finisher Chris Jamison among its signed artists. It's exactly the sort of work McCutcheon had in mind back in the late '80s, when he started recording local heavy metal bands in his mom's garage in Plum to pay his way through college.
 A solid business education at Robert Morris University, he thought, would prepare him for the music industry. But plans changed when McCutcheon discovered he had another talent: accounting. That led to a job right after graduation, and within a decade he made partner at PriceWaterhouseCoopers. In 2006 he was put in charge of the firm's quality and compliance arm in central and eastern Europe, and McCutcheon moved with his wife, Dana, and two young sons to a suburban village outside Prague. For two years it was their home base for frequent excursions and adventures across the continent.
"Music is math, if you think about it," says McCutcheon, of Franklin Park. "The artistic side of me was probably my greatest strength because it allowed me to work in the abstract. In business terms we talk about innovation; in music we talk about creativity. Can you see things that don't exist and envision how it could be?"
When the family returned to Pittsburgh, where McCutcheon became managing partner at the Pittsburgh office, the boys began to discover musical talents of their own.  The older one, Ryan, was drum captain of the North Allegheny marching band and enrolled at RMU. The younger, Brett, took up the saxophone. Their father, meanwhile, bought a vacant bank branch on Neville Island's main street and began converting it into a music studio.
Then the world turned upside down. Ryan was killed in an automobile accident on his way back to campus one night after coaching the Hampton High School drumline at a local band festival. The shock and grief convinced McCutcheon to reassess everything, he says. Determined to spend more time with his family, he retired from accounting and threw himself into the studio full time.
Since then, The Vault — named for the old steel safe they use for a reverb chamber — has added a six-time Grammy-winning chief engineer, Jimmy Hoyson, along with a deluxe refurbished Neve 8058 console that was first owned by George Harrison and later by Scott Litt, who had it in his L.A. studio for mixing albums by R.E.M., Nirvana, Bob Dylan, and Bon Jovi. The board adds a warm, compressed signal that remains in high demand, combined with The Vault's modern, industry-standard technology for digital recording and sound mixing.
In addition to a scholarship fund at RMU, the McCutcheons created the Rhythm19Fund in honor of Ryan to support music education for kids throughout the region. The Vault has been heavily involved in recent projects to help local bands and music venues to survive the prolonged Covid-19 shutdown. They produced a celebrity "We Will Rock You" Zoom session last spring, at the request of Pittsburgh Mayor Bill Peduto and Allegheny County Executive Rich Fitzgerald, that garnered 1.5 million views on YouTube. The studio also raised some $30,000 in donations for service workers in need through a 12-hour virtual concert series by local artists.
McCutcheon says he wants to be a key player in building up Pittsburgh's music industry. That starts, he says, with using the studio to bring the community together through music and raising the visibility of local musicians. Brett, now a music major at Slippery Rock University, often joins his father to assist in the studio.
"There's amazingly talented artists in this city, but not necessarily the supportive ecosystem that brings them together," he says. "In my mind, I don't see why Pittsburgh can't be as much of a music town as Austin, if we only had the ecosystem to support it."