Alum of the Month - Fernando Acevedo '02
A Colombia native, Fernando stayed close after graduation and recently brought food to stock Colonial Cupboard.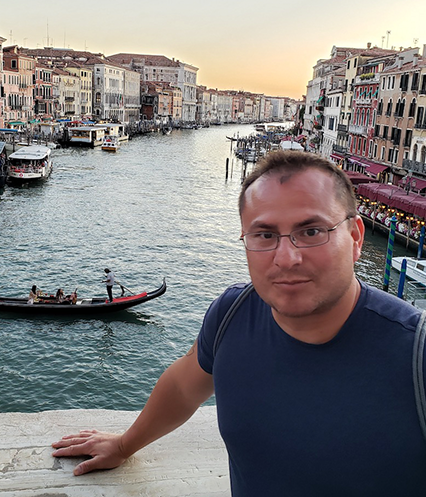 Family was a big reason Fernando Acevedo '02 came to Robert Morris University. But not in the way that usually happens.
The Hopewell Township resident works as an IT professional at the Moon Township offices of Radian Group, a major mortgage and real estate services company. As senior analyst for process automation and improvement for the Philadelphia-based mortgage insurance firm, he has helped Radian to test and implement the use of software robots in order to automate various business processes, such as entering orders that come in through email. 
Fernando says he was always interested in computers, but studied finance at RMU because he hoped to work for his father, an investment banker based in Venezuela, after college. Before that, Fernando decided to finish high school as an exchange student in the United States. His father had earned his master's degree abroad in the United Kingdom, and Fernando's sisters were following a similar path. He got placed in Boiling Springs, a rural area about 20 miles outside Harrisburg.
"I grew up in Caracas, and I remember thinking when I first came in to Boiling Springs: 'Oh my, this is the most advanced country in the world, and I see manure fields. What's going on?'" he says. "But I grew to love the peace of mind in the country and the suburbs like Moon Township and Hopewell. I can't go back to living in a city."
A cousin of his host family, Rick Albert '99, was studying accounting at RMU and talked it up to Fernando, who came for a visit and decided it was right for him. He entered his freshman year the next fall, and recalls many close friendships, ping pong tournaments in the dorm and a bout he won at Fight Night, an exciting international honors curriculum led by professor Rex Crawley, the pride he felt at the opening of Nicholson Center, and most of all, the support he got from classmates and faculty his junior year when he received the sad news that his father had died. "It allowed me to continue to go on," he says.
After graduation, Fernando took a job in title insurance locally, but continued to be drawn to technology, learning on the job at every opportunity. Eventually he became vice president of IT for EnTitle Insurance, which last year was acquired by Radian. His new challenge of automating business processes has been exciting and inspiring, Fernando says.
He also has been inspired by something his CEO said recently, encouraging employees to look for ways to do their part to support their local community. Since then, Fernando and his wife, Amy, have brought several deliveries of groceries and other essentials to RMU stock the Colonial Cupboard, a food pantry on campus for students in need.
"I wanted to do something that would make a difference," he says. "I remember when I was on campus how many people were so helpful to me."