Alum of the Month: Jada Grandy-Mock '00 M'04
As a self-proclaimed "compassionate capitalist," Jada chose a career in banking to help others to overcome poverty.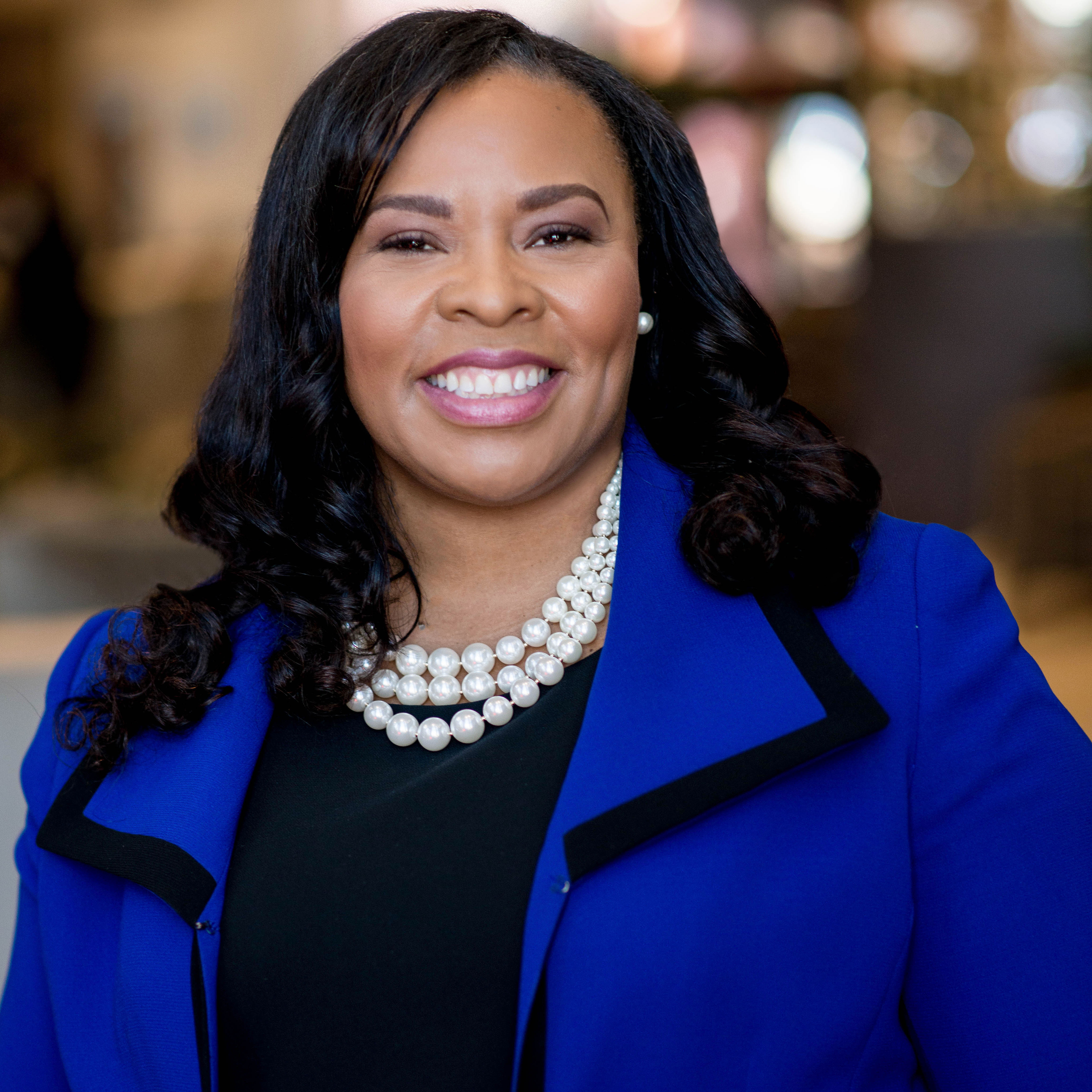 Being the first in her family to graduate from college took a lot of hard work for Jada Grandy-Mock '00 M'04, but she was determined to succeed. Now as chief community impact banking officer at Fifth Third Bank in Charlotte, N.C., she can look back with satisfaction on a mission accomplished.
Growing up in public housing in the Hill District, Jada decided in high school that she wanted to help her neighborhood by becoming a banker. "I saw so many people struggle, and it's not because they didn't have dreams or goals, but they didn't have access to affordable financial services and opportunity," she says. "I realized I could change the trajectory of people who live here if I became a banker. I just knew that I was going to do something different with my life."
Jada received a full tuition scholarship to RMU, where she majored in finance. After living on campus her first two years, she moved back home for her junior and senior years, walking Downtown each morning either to her internship at National City or to meet the shuttle to the Moon campus.  She then earned her M.B.A. taking night classes while working as a business banking officer at National City.
That's where Jada first was able to use her influence as a self-described "compassionate capitalist" making loans for small businesses. Then, after a short stint as a national bank examiner, she accepted an offer from Fifth Third in Pittsburgh to be a vice president overseeing the bank's Community Reinvestment Act compliance and community development programs across the region. In that role, Jada was instrumental in securing tax credit equity investments to support the revitalization of Dinwiddie Street and other developments in the community.
Jada Grandy-Mock | RMU MBA from Dorosh Documentaries, LLC. on Vimeo.
Jada moved to the bank's Charlotte office 11 years ago to become a senior vice president managing community development lending, and has continued to climb the executive ladder. Now she oversees lending, service, and investment activities in 12 states and is responsible for $11.4 million in philanthropic investments by Fifth Third.
Jada also is leading the bank's $180 million neighborhood investment program called "Empowering Black Futures" that combines flexible capital and philanthropy with the goal of promoting economic advancement and mobility in predominantly African American and low and moderate income neighborhoods. One main area of focus is providing Black residents and communities with homeownership opportunities to increase wealth creation and revitalize neighborhood business corridors.
She and her husband, Lionel, enjoy going for walks in the park. The climate in Charlotte is as warm and welcoming as the people, she says. Jada is a generous supporter of her alma mater, which she credits not only for teaching her the ropes of finance and management, but also honing her ability to influence colleagues through the school's focus on communication skills.
"I believe that education is the gateway out of poverty," she says. "It was for me, so I'm just paying it forward."