Alumni Success: Darius Boxley '17
Nearly finished at law school, Darius plans to represent athletes as an agent or with a players association.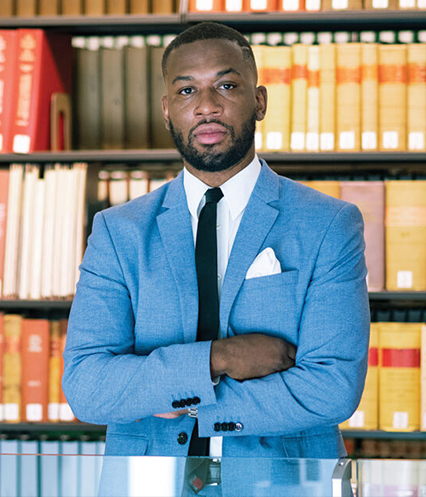 For Darius Boxley '17, the law degree he's set to earn this spring from Campbell University means more than a promising launch to his career. It is also a chance for him to give back to his community as a role model, as a mentor, and as a benefactor.
"I always wanted to be an athlete growing up but that wasn't in the cards I guess — not tall enough," says Darius. "So I turned to what I was good at, which is school."
His father, a pastor and a probation officer, and his mother, who did interior design and worked as a secretary, had high expectations. Darius and his younger brother both focused and tried to avoid distractions that led other people they knew into trouble — including their older half-brother, who went to prison shortly after Darius's 17th birthday.
"Growing up I just wanted to be a better example," he says. "Not bashing on my older brother, but I wanted to be better for my little brother. I didn't want to go down that cycle. I have friends who went down the wrong path. Some of them got killed. It shaped me to want better for myself, my family, and future generations."
Darius majored in sport management and was president of the pre-law society and Black Student Union his senior year at RMU. He chose Campbell University in Raleigh, N.C., where his family has relatives, for law school. Recently he was featured on the front cover of the school magazine.
Internships with the Equal Employment Opportunity Commission have increased his interest in combating workplace discrimination, and he is considering a career as an attorney for a professional players union or possibly as a sports agent.
"My main goal is to help Black athletes on their journeys," Darius says. "They may have a lot of money, but I want to encourage them to use it to do things to help their communities and families and to help impact Black neighborhoods as a whole." 
His role model is LeBron James, who has directed much of his fortune for good causes in his hometown of Akron. Though Darius knows he can't command the eye-popping earnings of a star athlete, he believes that he can also make a difference by being a mentor to kids who grew up in circumstances like his own.
"Being an attorney, it's not a big deal to a lot of people," he says. "But it'd be a big deal to them to have somebody to look up to."
Photos by Ben Brown, courtesy of Campbell University
Alumni Insider: February 2021 | Other Stories
TOWN HALL MEETING | With President Howard and Black Alumni Council
Learn the latest university news including a greater commitment to diversity, equity, and inclusion.
RSVP
ALUMS OF THE MONTH | Chelsea Walkland '10 M'11 and Cobina Delaney Walkland '13
This hockey-loving Colonial Couple met on the ice. Now they have two young skaters to train.
Chelsea and Cobi's story
WHAT'S YOUR LOVE STORY? | You had me at "Go Bobby Mo"
Share your Colonial Couple story. Did your eyes meet across a crowded classroom? Best tale wins a prize.
Share your story
TAKE A HIKE | Get outdoors with RMU
All skill levels and ages welcome this Saturday for a casual guided nature hike in Moon Township.
RSVP
MAKE A DIFFERENCE | For Black History Month
Support events and scholarships for minority students through the Black Alumni Council Scholarship Fund.
Give now