Alumni Success: Joe Douglas '13
Living the dream he's had since childhood, Joe is a stats guru for the Pirates who gets paid to watch baseball.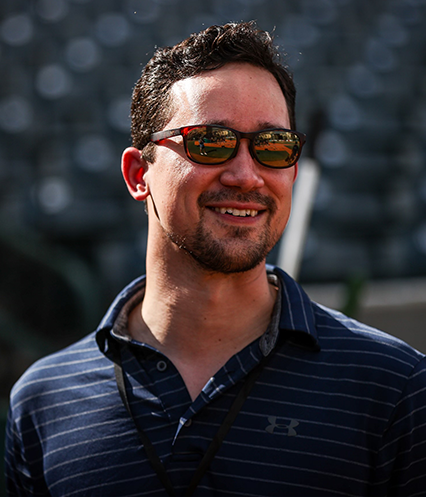 Since he was in fifth grade, Joe Douglas '13 dreamed of joining the big leagues. Now the assistant director of pro player valuation for the Pittsburgh Pirates, Joe is living his dream. 
His office is at PNC Park, so Joe figures he watches 145 games a year, nearly every Pirates home game at the ballpark, along with other major and minor league games on TV. Joe oversees a team of analysts evaluating more than 6,000 players from the major leagues all the way down through AAA, AA, High-A, Low-A, and rookie leagues in Florida, Arizona, and the Dominican Republic. Their mission is to support the team's general manager, Ben Cherington, in building the Pirates back into contention. 
Hours are long: 60-hour plus weeks are standard, and things get even busier in July at the trade deadline. It doesn't leave much time for other hobbies, Joe says. "Then you go, 'Yeah, but I'm still working in baseball.'"
A native of Greenville, Pa., Joe did not come from a family of athletes or sports fans, and he only played a bit of Little League. At first he was a fan of Seattle Mariners star outfielder Ichiro Suzuki, then found he was just as captivated with the box scores, batting averages, and sea of statistics that baseball aficionados find so enthralling.
With his knack for numbers, Joe came to RMU, attracted by the university's signature actuarial science program, one of only 17 Centers of Actuarial Excellence in the United States. He figured it would lead to a solid career in any case, and might just open a window into baseball. An actuarial internship with Buck Consultants in Pittsburgh turned into a full-time job after graduation. Four years later, Joe got lunch with Todd Tomczyk, the Pirates director of sports medicine, who was related to two of his coworkers at the firm. That led to an interview with the team's head of Informatics, Dan Fox, who recommended Joe apply for a job opening as a quantitative analyst.
Now Joe heads the analysts, who pore over a dizzying quantity of data for every baseball player who has been drafted or signed — not just runs, hits, and errors, but biomechanical measurements of a hitter's swing or the rotation and velocity of each pitch at multiple points of its trajectory to the plate, as well as strategic numbers such as how and where fielders are moving when a ball is put in play. The goal is to spot promising young players and scoop them up into the organization, hoping to groom them into a roster that can finally bring the Pirates back to the promised land.
"I think for everyone in this front office, the driving goal is determining how to bring a World Series to Pittsburgh, but we realize we're on the growth end of that curve," Joe says. "My role is to help us identify and acquire as much talent as possible in pursuit of that goal."
Photo by Josh Lavallee