Alumni Success: Kelley Flynn '21 & Madison Griffin '21
These two nursing grad students switch their scrubs for lacrosse togs when the Colonials set out to defend their league title.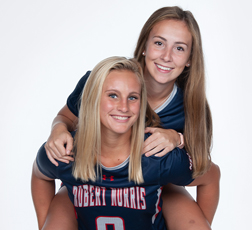 Kelley Flynn '21 and Madison Griffin '21 have seen their share of battles on the lacrosse field for Robert Morris. The two nurses also have been on the front lines of another battle recently — the one against Covid-19.
After the pandemic shut down the 2020 season, the two Maryland natives returned for their senior year to help the Colonials to a 10-0 record in the new Mid-American Conference, earning the team its first appearance in the NCAA Tournament. Hoping to build on that success, both decided to stick around another year as graduate nursing students at RMU while playing their final year of eligibility this spring.
Kelley and Madi have spent the last six months balancing graduate school and their upcoming lacrosse season with full-time roles as caregivers to those suffering the most from the spread of COVID. An average day for the pair sees a full load of coursework and a 90-minute practice before shuffling off to work a 12-hour shift at one of Pittsburgh' hospitals. Kelley works in the cardiothoracic surgical unit at UPMC Presbyterian Hospital, while Madi recently was working in the medical surgical unit at West Penn Hospital.
It might seem overwhelming, but Madi takes a different view. She told the Post-Gazette recently that she cherished her time at lacrosse practice, regardless of how many hours of sleep she had managed the night before.
"It was just a little escape from all the stress, especially with being a new grad nurse," she said. "You feel like you don't know what you're doing basically 100% of the time. And so when I was able to go to lacrosse and just have fun with my teammates and be able to teach and learn from them and my coaches, I was so happy."
Kelley says the two have relied on each other since coming to RMU their freshman year.
"We spent so many late nights in the library studying together or just in our room quizzing each other on flash cards the night before a test before waking up at 5 a.m. for lift and practice," she told the Post-Gazette. "Studying on the shuttle on the way to lift. … We used each other a lot to get through that."
To have a pair of girls like those two that say I want to come back for a fifth year of eligibility, I want to be in the graduate nursing school, and can I still play Division I lacrosse and get my hours to still be a travel nurse when the year ends? How do you say no to that?" says coach Katrina Silva.
As for the 2022 season, the Colonials defeated Detroit Mercy in their conference home opener February 23. After a string of four away games, they will play their next game at Joe Walton Stadium on Wednesday, March 16.