Alumni Success: Kendra Slis '17 M'17
She sells lasers to factories of all types and counsels high schoolers about careers in manufacturing.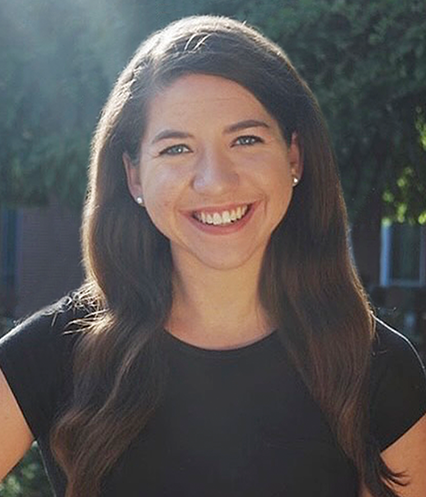 Manufacturing is often much more innovative and high-tech than some might imagine, including the assembly lines on the factory floor. Kendra Slis '17 M'17 knows about this firsthand.
After earning both a B.S. in engineering-biomedical concentration and an M.S. in engineering management in just four years through RMU's integrated degree program, Kendra uses that training in her job as an inside sales engineer with MECCO. The Cranberry-based company supplies laser marking systems for manufacturers to identify and track products, trace them down the line, and get them out to the world.
Every day of work is different for Kendra. She might talk to an automobile company about adding a laser engraver to their assembly line for tracking and tracing vehicle parts in the event of a recall. She could help a small manufacturing business implement their first laser engraver on the machine floor, allowing them complete control over a process that they might have previously outsourced. Or she might recommend a laser device for marking serialization numbers on implantable medical devices to be used in surgical operations. Her company can also design and build complete custom automated traceability systems that integrate data connectivity, enabling manufacturers to track products continually throughout the manufacturing process and supply chain. 
"It's really cool to play a small part in seeing all these companies get their products out into the real world and help people every day," Kendra says.
She also speaks to local high school students and teachers about career possibilities in the field through the Manufacturing Navigator Program of nonprofit organization Catalyst Connection. "We give students and teachers a realistic idea about manufacturing in the modern world -- that it is not just an assembly line," Kendra says.
She considers the volunteer work a form of paying it forward from the mentorship she received through the RMU Women's Leadership and Mentorship Program. Kendra says the program helped her to gain confidence. "In engineering, women are frequently outnumbered," she says. "WLMP helped coach us on how to advocate for ourselves and to say, 'We can do this as well as anybody else.' I always felt like my ideas were heard."