Alumni Success: Mark Popovich '86
He changed course from pilot school to commercial real estate. Now Mark is behind the city's major development deals.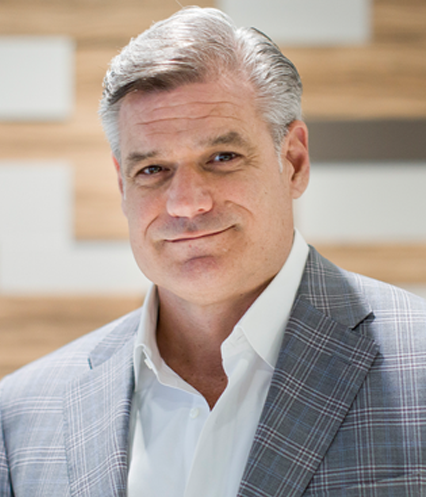 Mark Popovich '86 has done a lot for his alma mater. As a senior managing director and co-head of the Pittsburgh office at Jones Lang LaSalle Capital Markets, with more than 25 years of experience in commercial real estate finance, he has provided expert guidance to RMU's leadership team. Even before he joined the Board of Trustees, Mark took the lead in selling the RMU Downtown Center and organizing the acquisition of Yorktown Hall.
The recipient of this year's Alumni Heritage Award, which recognizes a graduate for distinguished service and accomplishment in any field of human endeavor that brings honor to the recipient and the university, Mark is a generous donor. Two of the mannequins that students practice with in the nursing program are named after his family members. And one of those students practicing on them is his daughter, Amanda, so Mark's a proud legacy dad too.
But he didn't plan to go to RMU. He always wanted to be a pilot, and went to the country's top civilian flight school, Embry-Riddle University in Daytona Beach. There Mark had an uncomfortable realization. "My roommates all had epiphanies and heard angels singing when they got in the cockpit," he says. "For me, it was just hot, noisy, and uncomfortable."
So he came home to Pittsburgh and transferred to Robert Morris, first in transportation management, then finance. That started him on a long and successful career, beginning at the Mayflower Hotel in Washington, D.C., where he was staff accountant and then assistant controller. Then he went into hospitality development, and traveled to some lovely destinations like Belize and Granada to do feasibility studies, and also got to spend some time on the beach.
It was another RMU Alumni Heritage Award winner, David Lancia '79 M'86, who hired Mark in 1992 and brought him back to Pittsburgh to be a director in the real estate advisory group at PriceWaterhouseCoopers. He did that for five years, then moved into commercial real estate. The longtime Carnegie resident has completed $8 billion worth of transactions in a distinguished career, so many that it's hard for him to remember all the deals. Recently, just in the Strip District, he has handled the financing for The Vision on 15th, a new $75 million office building, and the huge Three Crossings project, where he handled an $80 million recapitalization. In Oakland there's the new Riviera Building in the Pittsburgh Technology Center. And the list goes on.
Though RMU was not part of Mark's initial plans, he recognizes that it put him on a path to success. As one of the large and growing contingent of senior executives in the region with diplomas from RMU, Mark says he appreciates the university's no-nonsense approach. "Under the radar is how I like to fly," he says.
That's strictly metaphorical now. The last time he sat behind the controls was in the '80s, for a memorable date with his Keystone Oaks High School crush, Christine. "I kissed her over the Point," Mark remembers. It apparently worked — the couple have been married 32 years. When you have that kind of success, perhaps it's time to hang up your wings.