Alumni Success: Paul Spradley '03 M'06
After a year running his own consulting business, Paul now looks to make an impact in the corporate world.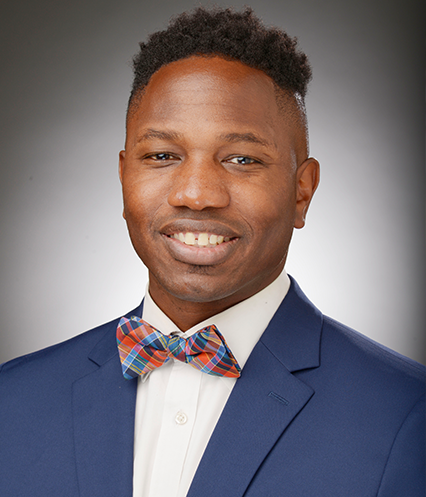 You never know when you might meet an important link in your career network. For Paul Spradley '03 M'06, the moment came during his last week working as director of the RMU Center for Student Success.
It happened in the early spring of 2019. Paul and his wife, Jessica, were launching a human resources consulting business, Care Based Leadership, to offer organizational and corporate evaluations and training in diversity, equity, and inclusion. An African American mother and her high school son came into Paul's office unannounced, and she explained that she had heard he was someone they should meet. "I've had many moms do that over the years," Paul says. "I didn't know that she was a boss. She was incredibly well researched."
Paul spoke to them at length, including a private counseling session with the woman's son on how to make the most of his college experience, and they came away with their questions answered. He helped them find some additional scholarship funds, and the young man enrolled.
Jessica Spradley teaches sociology at RMU, and he took her class. Paul says Jessica told him the story that evening. "He sat in the front row and said, 'Dr. Spradley told me to sit in the front of every class.' She said, 'That's my husband.'"
Despite the Covid-19 crisis this year, the Spradleys' consulting business was seeing increased demand, Paul says, as Black Lives Matter protests raised concerns about equality and led more businesses and organizations to take action to improve race relations in the workplace. Then a few months ago, he heard back from the mom, Stephanie Herring, who is vice president of human resources at Dollar Bank. She wanted him to know about a new assistant vice president position the bank was creating to lead its efforts for diversity, inclusion, and equity. Did he know anyone who might be interested?
The more he researched it, the more Paul found the job intrigued him and aligned with his personal mission. "There's been a deep disconnect between underrepresented people and money, and it's important to begin bridging that gap," he says. Dollar Bank has a commitment to lending to minorities, and it is not a recent development; the company website showcases a fascinating history in this regard, including the signature of the first Black person to open a savings account at the bank in 1855.
Paul applied and got the job, which he started this summer. In his role, Paul is responsible for leading strategic efforts around diversity, equity, and inclusion across all of the banks locations, which include Pittsburgh, Cleveland, Canton, and Virginia Beach. He was also recently appointed the advisory board for the Housing Opportunity Fund of the city of Pittsburgh Urban Redevelopment Authority. Jessica is getting close to finishing her doctorate too.
But not everything is going perfectly according to plan, Paul says. Particularly when it comes to their children, ages 4 and 7, who are spending a lot more time at home thanks to the coronavirus. "Jess and I, who are both educators, thought 'We're going to crush this,'" he says. "Turns out I am a horrible first grade teacher. We just have a deeper appreciation for educators now."