Alumni Success: Shelby Landis Goughneour '13
Her team has helped with a new Alzheimer's disease diagnosis method that recently won FDA approval.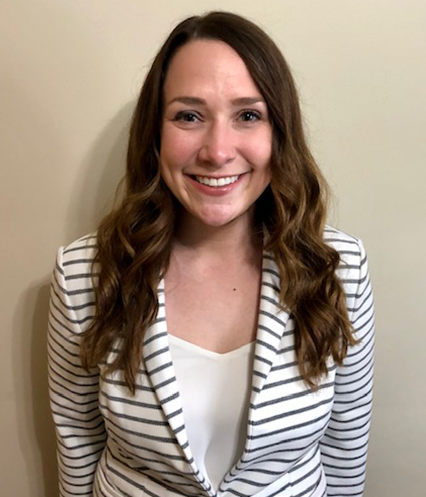 A team of RMU alumni led by Shelby Landis Goughneour '13 has played a significant role in a new FDA-approved method for diagnosing Alzheimer's disease with brain scans.
Shelby is senior manager of image management for Avid Radiopharmaceuticals, a Philadelphia firm where she has worked since earning her diploma in nuclear medicine technology. The Eli Lilly subsidiary won FDA approval in May for Tauvid, a diagnostic agent that allows positron emission tomography — commonly known as a PET scan — to spot one of two key indicators of Alzheimer's in the brain. An existing Avid product called Amyvid is already used in scans to see amyloid plaques, the other main clue for detecting the disease.
Three of the four people who report to Shelby on her research team are also RMU alumni: Nicholas Plavchak '12, Amanda Potasnik '16, and Taylor Fromm '16. The team's role has been one of quality control, making sure patient PET scans in the clinical trials for Tauvid have followed proper protocols.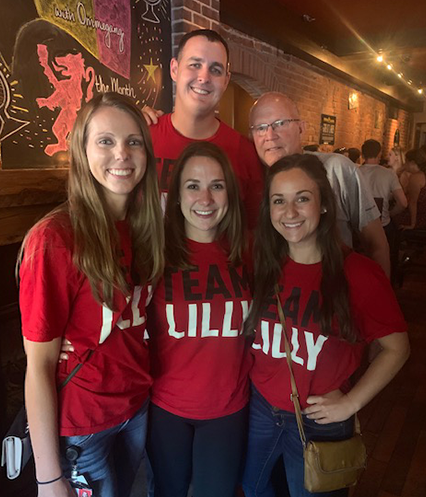 "It's very rewarding and it's something that I didn't realize how passionate I was about it until I got to be a part of the research side, working towards a cure," Shelby says. Throughout her time at RMU, Shelby spent her summers as a nurses aide in the dementia ward of a nursing home. She has a personal connection to Alzheimer's disease, which fatally afflicted her grandmother.
While the Philadelphia-area native was initially glad to get a job at a company back home, she now works remotely. Not because of Covid-19, but because she and her husband, Rick Goughneour '13, moved four years ago to Kentucky. That means Shelby has had a head start inculcating habits that have become all too familiar this year for people working from home. She says she finds it important to keep to a schedule and a routine, while taking moments through the day to take breaks and walk around.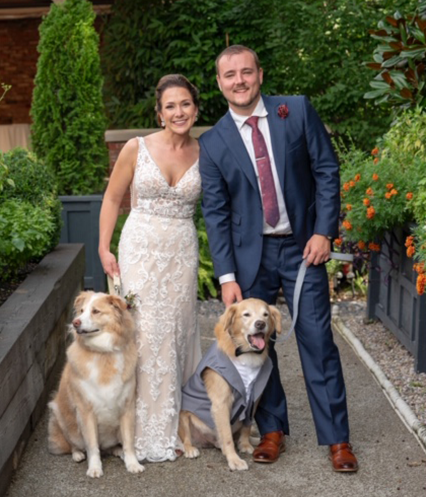 Rick, whose degree is in communications, had an opportunity to start his own company in TV and internet sales in Lexington. His firm is called L&B Direct, named after the couple's two golden retrievers, Lucky and Bailey. "We are big dog people," Shelby says.
The Colonial Couple met at a Greek life leadership conference they both attended in St. Louis — they were both presidents of their sorority and fraternity at RMU. Several fellow alumni were in the bridal party for their wedding in Kentucky in 2018. And Shelby says she and Rick never tire of telling neighbors and coworkers about one of their favorite senior year memories: when the Colonials upset Kentucky in the NIT.