Alums of the Month: Chelsea Walkland '10 M'11 and Cobina Delaney Walkland '13
This hockey-loving Colonial Couple met on the ice. Now they have two young skaters to train.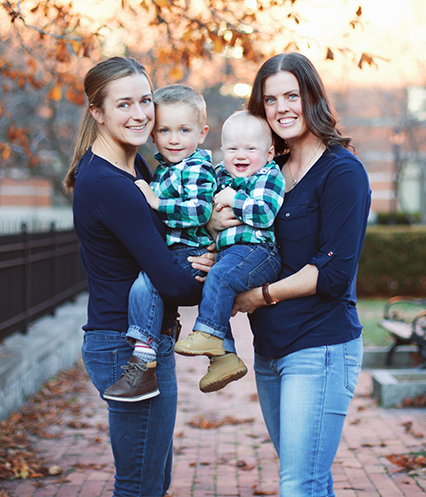 When it was time for Cobina Delaney Walkland '13 to have her first child, it helped that in a way she had gone through pregnancy and childbirth already. She had been there for her wife, Chelsea Walkland '10 M'11, when the Colonial Couple had their first child.
"I was on the sidelines for the first one, cheering her on," says Cobina. "After I was able to go through it, after the fact I was like, 'I really appreciate what you did now.' It is a really cool thing that we both got to experience it and see both sides of it."
The two moms, who were married in 2015, love their boys almost as much as they love hockey. They met on the ice as members of the RMU Colonials hockey team, and their first date was a Penguins game. Chelsea and Cobina's sons also have names that begin with C, and each has added meaning for hockey fans: older brother Calder (the NHL's first president and name of its rookie-of-the-year trophy) and baby Corson, or "Corsi" (a type of player rating statistic).
The family lives in Hamilton, N.Y., where Chelsea has been an assistant coach of the women's hockey team at Colgate University since 2019. She earned a bachelor's in sport management and a master's in instructional leadership at RMU, then did short assistant coaching stints at Rochester Institute of Technology and SUNY Oswego before returning to Moon Township as an assistant coach of the Colonials for five seasons. 
A native of Rochester, N.Y., Chelsea first heard of RMU when it was the southernmost college with an NCAA Div. I women's team. (In the years since then, among the programs joining the growing ranks have been two universities a little further south: Ohio State and Lindenwood in St. Louis.) The Colonials were then only in their second year, and Chelsea says she was drawn by the prospect of joining a new program and being part of its early development.
"Growing up, if you told people you played hockey, almost the immediate response was, 'I didn't know girls play hockey,'" Chelsea says. Now she values the chance to be a role model and widen the sport's appeal. "They've got to be able to see it to dream it. That's a very special part of what we're able to do. I've got the best job in the world. I'm so lucky to be in hockey every day."
Cobina majored in business, with a double concentration in management and marketing. Now she is a manager at Capital Edge Consulting, a D.C.-based firm which works with defense contractors to ensure their compliance with federal regulations. It used to involve a lot of travel, but the global pandemic has meant that her workdays are now entirely telecommuting.
"It's been a blessing to be able to be home with the boys," Cobina says. "I'd say the toughest part is trying to get our work done and parent at the same time, but at the end of the day we were lucky."
Alumni Insider: February 2021 | Other Stories
ALUMNI SUCCESS | Darius Boxley '17
Nearly finished at law school, Darius plans to represent athletes as an agent or with a players association.
Darius's story
TOWN HALL MEETING | With President Howard and Black Alumni Council
Learn the latest university news including a greater commitment to diversity, equity, and inclusion.
RSVP
WHAT'S YOUR LOVE STORY? | You had me at "Go Bobby Mo"
Share your Colonial Couple story. Did your eyes meet across a crowded classroom? Best tale wins a prize.
Share your story
TAKE A HIKE | Get outdoors with RMU
All skill levels and ages welcome this Saturday for a casual guided nature hike in Moon Township.
RSVP
MAKE A DIFFERENCE | For Black History Month
Support events and scholarships for minority students through the Black Alumni Council Scholarship Fund.
Give now