Alums of the Month: Michelle Emanuele Whitico '14 M'17 and Michael Whitico '14
This Colonial Couple met at RMU and got engaged on Nicholson Lawn. Now they live next door!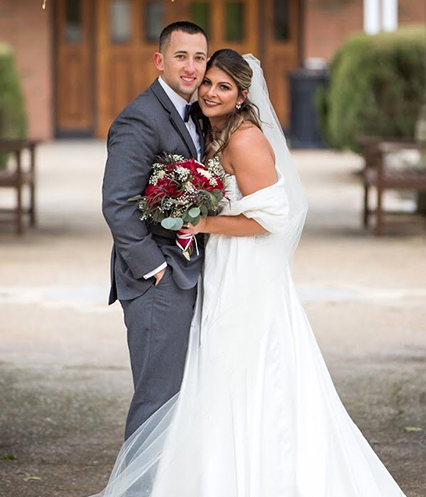 Michelle tells their "Colonial Couple" story:
It was 2013 and I finally started to use Instagram. As I posted pictures of my roommate, friends, and yes, the terrible MySpace selfies, I started to realize that this one account kept liking all of my photos. I clicked on the profile, and I immediately recognized the guy in the pictures to be really good friends with one of my sorority sisters. I had met him in passing previously, but not really knowing him I thought what the heck, why not? So I sent a text to that sorority sister: "What do you think of this Mike guy?" She responded that he was a super nice guy and asked if I wanted her to give him my number. I followed my gut and gave her my blessing to do so.
Two days pass after this conversation and I'm no longer expecting a message or contact from Mike. So I just try to forget about it and distract myself by hanging out with my friend Ashton, swimming in her parents' pool. I had just spent too much money on one of those waterproof phone cases, so I had it in the water with me taking pictures of us and playing music.
All of a sudden, a text came through from a number I didn't recognize: "Hey it's Mike." My heart jumped out of my chest, and our underwater photoshoot came to an immediate halt. We sent a few messages back and forth, and then he asked if I wanted to go out to dinner the next day. I immediately agreed.
The next day a white Pontiac G6 pulled up to my apartment, and I walked out to meet him. We drove off to our first date at Olive Garden. Here is where I learned this man was a picky eater, but a gentleman. We talked the whole time. After dinner we made plans to watch "The Notebook" (it was a joke that he's never seen it, and he would only watch it with me). The movie ended around midnight or 1 am, and then he made the 45-minute drive back to his home.
The very next day, I found out he was up rather early, but I didn't get to talk to him until afternoon. He was taking the GMAT! He chose to take me out on a date and stayed up way too late the night before taking this very important test. This is where I realized Michael was different than any other guy I had dated. He proposed to me on the Nicholson lawn and of course I said yes!
Here we are six years later, married and living in a house that shares a property line with the place where our story all began. We fell in love with each other and the area, so we bought a house with a backyard that connects to Bobby Mo. We love being able to walk to campus. We take our pup to homecoming and other events, and we can't wait to take our kids to campus events one day.
We are proud to be a Colonial Couple, and we have so much #ColonialPride!