Expert Advice: Avoiding Holiday Stress
How to make sure you don't lose your reason this season.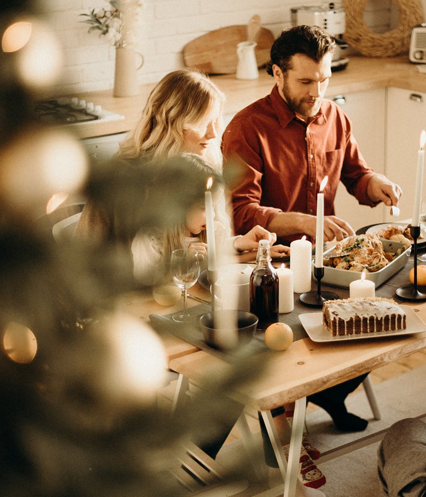 According to the American Psychological Association, 61% of people say the holiday season is a stressful time. The high expectations that we create for ourselves this time of year can be a big part of the problem. We should try to remember what we all are celebrating — the chance to share moments with the ones we love. Here are some further reflections on keeping spirits bright:
Focus on your favorite tradition. If baking cookies is what makes you happiest, throw yourself into that and enjoy doing your part in making the holidays special. Then give yourself permission to ask for help with the rest, like wrapping presents or supplying the dinner menu. 
Stick to your budget. It's too easy to let feelings of guilt and inadequacy ruin the spirit of gift giving, and that can also lead to financial headaches when bills come due. Homemade gifts, like decorating a frame for a memorable photo, are not just budget-friendly, but therapeutic for the giver and meaningful to the recipient.
Don't work when you're off work. Put away your work email and resist the urge to text coworkers with anything other than greetings and good wishes. Finish the work you need to do at work before the holidays, and spend the days off being present with the ones you care about.
Set aside grievances. This is not Festivus. People are not perfect. For one day, resolve to accept people as they are and not demand that they live up to your expectations. Now is not the time to resolve difficult family issues. Save it for another time less fraught with other concerns.
Take a break from the break. Most people need a day or two after the holidays to rest and readjust. Whatever break you need to resume your routine, do that: see a movie, read a book, or just sleep in.
If you've lost a loved one, make any changes you need. Accept that this will not be your best Christmas. Do what you feel you are up to, but give yourself room to grieve. If you can't bear the thought of midnight Mass without your loved one, you shouldn't have to go through the motions for others' sake. They will understand.
Know that others can help. Feeling melancholy is part of the holiday package. But if you feel persistently sad or anxious, and don't believe it will get any better, don't ignore that feeling or try to hide it. Make a free call to Resolve Crisis Services at 888-796-8226, where a trained counselor can help you with any problem, 24/7.
Janene Szpak is an associate professor of nursing and a certified psychiatric mental health nurse practitioner with New Directions Counseling Services, with offices in Wexford in Robinson. She specializes in managing depression, anxiety, PTSD, ADHD, and other psychiatric needs. Janene is also a proud RMU alumna, having earned both her M.S.N. and her D.N.P. at the university.