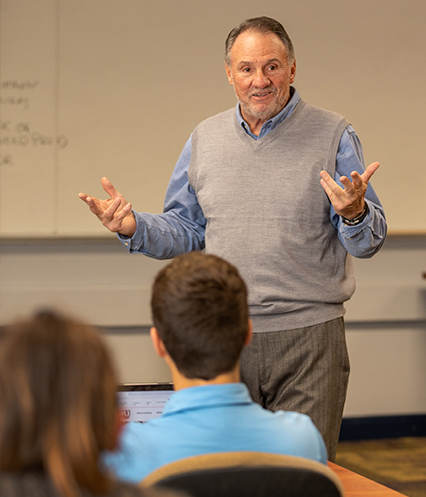 "In order to be a good communicator, you've got to have good emotional intelligence skills."
When Dean Manna says he loves being in the classroom, he means it. This year is the marketing professor's 46th at Robert Morris University, 30 of which he spent as department head.
Manna has been drawn to marketing and sales since his own school days, and backs up his academic knowledge with 25 years of industry experience in real estate sales and the formation of a sales training company. He's even given seminars to President Chris Howard and his executive committee and the RMU Board of Trustees.
"Sales doesn't have to be about a product or service," Manna says. "You could be selling ideas, or selling yourself to your superiors, subordinates, or peers. In order to be a good communicator, you've got to have good emotional intelligence skills. Then you've got a better understanding of the customer."
Manna helps his students prepare to use such skills themselves, and was instrumental in creating the School of Business's new certificate program in sales and Center for Sales Excellence, both launched this fall. He's also begun a new class, Advanced Professional Selling. "Each and every year, sales is getting more and more competitive," he says. "My goal is to help my students as much as I can. Hopefully with my insights, they'll have a better chance to succeed, both in the classroom and in their employment. I've run into many graduates who remember much of what I taught them and say they still use this or that skill, which makes me feel wonderful."
Keith Tate, a junior marketing major, has been one of those students to benefit. He turned to Manna as a mentor after he heard the professor give a motivational talk at freshman orientation. With Manna's guidance, Tate has become the vice president of RMU's American Marketing Association chapter, completed a successful internship, and participated in three regional competitions with Manna as coach.
"I'm a first-generation student, so I didn't have much knowledge of how to be successful in college," Tate says. "I just went to Dr. Manna and asked him, 'How can I be successful as a marketing major?' He gave me so much information that I'm still implementing his advice. He really shaped my college career and has been a huge part of my success at college."