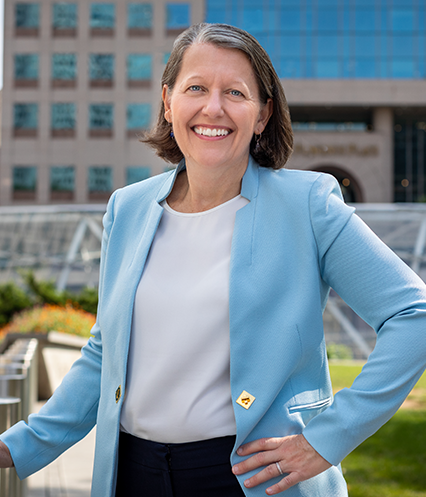 "Women often take roles in nonprofits where they can do good, and they end up being underpaid."
A few months after her promotion this summer to chief executive of the United Way of Southwestern Pennsylvania, Bobbi Watt Geer M'05 was asked what it's like to sit in her new chair. As it turns out, she doesn't really know.
"I never sit there," says Watt Geer, the first female president and CEO of the nonprofit in its 92-year history. Instead of making phone calls from her office, she is usually out in the community, meeting with civic leaders, business executives, young people, and others to get feedback on United Way's efforts.
Underrepresentation of women in nonprofit leadership roles is an important issue for Watt Geer. Studies show that women comprise three-quarters of the workforce in nonprofits, but fewer than half of those organizations' leaders, she says. Watt Geer hopes that her leadership will spark other organizations to promote other women in her field and help eliminate the gender pay gap.
"Bobbi's a star," says Peggy Outon, assistant vice president for community engagement and leadership development at the RMU Bayer Center for Nonprofit Management, which is also a vocal advocate for more women in the nonprofit world. "Kudos to the United Way for seeing that. Kudos for Bobbi for being a smart, strong woman determined to lead. She is very intellectually curious and she is very genuine in wanting to see people's lives improve and being an agent for productive change."
As someone who has worked in nonprofits her entire career, Watt Geer pursued a master's degree in nonprofit management at Robert Morris University to deepen her knowledge of fundraising, human resources, legal, and other issues. Her thesis on best practices for nonprofits continues to influence her work at the United Way, she says.
Watt Geer's empathy is rooted in her working-class childhood in Apollo, Armstrong County. Her father was a truck driver for the steel industry, and the family suffered periods of financial hardship as the mills closed down. She also gained insight into the needs of older Americans, having grown up with her beloved Italian great-grandmother, Nonnie. Just as Nonnie helped take care of her, Watt Geer helped take care of Nonnie, who lived until she was 98.
Graduating with a degree in communications and public relations from the University of Pittsburgh-Johnstown in 1987, Watt Geer landed a job as a field manager for the American Heart Association of Pittsburgh, Greensburg, and Johnstown. She learned on the job, working with four different boards, implementing programs, and launching fundraisers, and was eventually promoted to program director. In 2000, she was named president of the Community Foundation of Westmoreland County.
At the same time, she started studying at RMU for a master's in nonprofit leadership, attending Friday classes and doing the rest of her work online. "My experience at Robert Morris really grounded me," she says. "It helped me put theory and practice together." A standout student with a 4.0 average, she also enjoyed the camaraderie with the other graduate students. One of them — Kristy Trautmann M'05, now executive director of FISA Foundation — is now her spouse. Watt Geer credits her marketing professor, Jill Maher Kurp, for being her research mentor. When Watt Geer went on to earn a Ph.D. in public administration and public policy at the University of Pittsburgh, she invited Kurp to be on her dissertation committee.
Watt Geer joined the United Way of Southwestern Pennsylvania in 2007 and worked her way up to the top. Her contributions include leading a research project related to the status of women in Westmoreland County. The report showed that 44 percent of female-led households in Westmoreland County were living below the poverty line. She helped develop programs to enable single mothers to go back to college, providing them with childcare and other incentives that allowed them to earn a living wage.
At a time when charitable giving is down 1.7 percent nationwide, Watt Geer hopes to broaden the pool of contributors by reaching out to young people, appointing them to the board and committees. She also wants to promote deserving women in nonprofits. "Women often take roles in nonprofits where they can do good, and they end up being underpaid," she says.
"But when it comes to leadership roles, they are far less represented. Promoting women is essential to create a workspace and community that is respectful and responsive, diverse and inclusive."