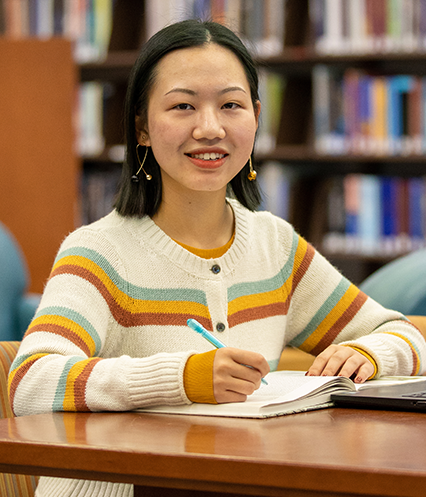 "I would not be on this road without help from all these people, and I feel it's really important to pass that on."
Jiabi He traveled halfway around the world so she could study social sciences at Robert Morris University.
The native of China hoped to expand her knowledge and civic engagement more than she felt possible at home, where the overwhelming focus was on practice for competitive entrance exams. The first in her family to attend college, He received an RMU Presidential Scholarship and hasn't slowed down since, availing herself of every opportunity she can manage.
Settling on a psychology major — and to quantitatively complement that, an economics minor — the senior is a 4.0 student, a dean's scholar and honors program participant, and a member of the Psi Chi International Honor Society. With the ultimate goal of helping to improve the Chinese educational system, she plans to pursue a Ph.D. in education policy after her graduation this spring. "I'm trying to make use of all that RMU provides because I don't have this back home," she says. "Here there are all these great resources that you can use as a student. You just need to really explore and make use of them."
In recognition of her achievements, the university has selected He for its 2019 Rising Star Award, given to a graduating senior who has demonstrated academic success, individuality, determination, passion, and potential.
As if her full course load weren't enough, He applied for and won professional development and honors enrichment grants to audit political philosophy classes during her summers, including a Hertog Foundation course. And in He's "spare time," she's committed to giving back. A frequent volunteer for RMU service events, she now serves as president of the Nonprofit Leadership Association and as director of service for the Student Government Association, disseminating information on volunteer opportunities. She is also active in the Women's Leadership and Mentorship Program.
"I really appreciate all the help I have received all these years from so many at RMU," He says. "Without my scholarship I would not be able to attend. My professors and my club advisors have given me really valuable suggestions and encouragement. The Office of Scholar Development has helped me with all my applications. I would not be on this road without help from all these people, and I feel it's really important to pass that on."