The former student government president's journey has taken him from Malawi to Moon Township to Manhattan.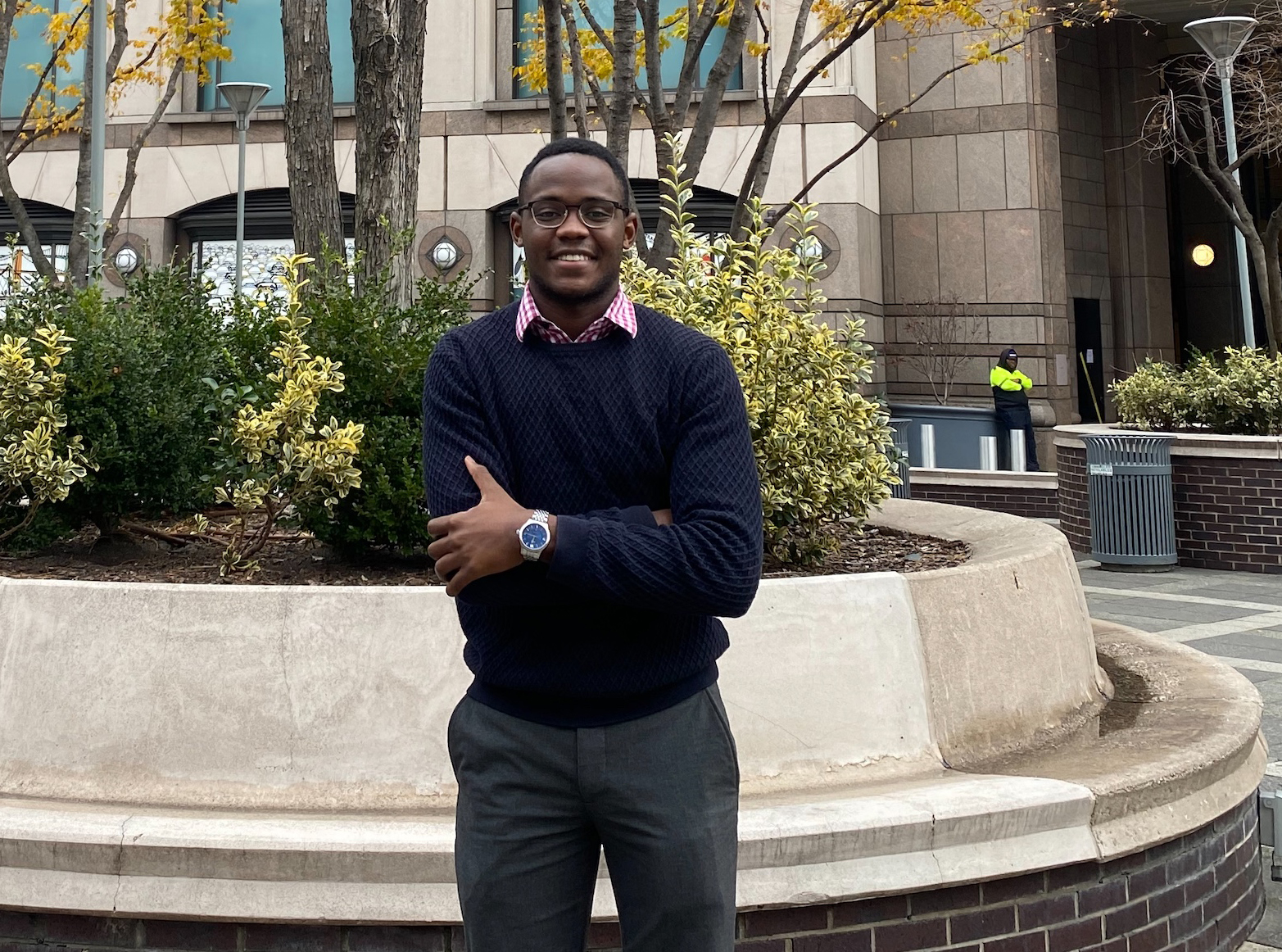 Almost five years ago, Zaithwa Gwaza '21 boarded an airplane to fly from Africa to America to begin his studies at Robert Morris University. It was an important moment in Zaithwa's life, and not only because it would be his first time setting foot in the United States.
The young man in the next seat was also on the way to college. Rukudzo was from Zimbabwe, not far from Zaithwa's homeland of Malawi, and was headed for Michigan. They stayed in touch. Then a few months ago, Rukudzo shared a tip about a job opportunity at Nomura, the global investment bank where he had spent an internship and now has a job. Now the two friends from Africa are also coworkers at the global investment bank.
"Walking around and seeing how busy things are — the big buildings, the town is always popping — every day it's like, wow, I'm actually here," says Zaithwa, who served two terms as president of the RMU Student Government Association and was awarded the 2021 Presidential Transformational Award, RMU's most prestigious undergraduate honor.
The former dual major in economics and finance is now a global markets analyst for Nomura. He works at the bank's interest rates sales desk, which offers various fixed income products, from U.S. Treasury bills to swaps and derivatives based on interest rates, to Nomura's clients, chiefly large institutional investors.
He takes the subway to work each day from his apartment in East Harlem to the offices in Midtown. The hours are long, and when he isn't working, Zaithwa is usually studying for professional securities license exams.
"It's a really, really steep learning curve," he says. "It's one of the hardest things I've ever done. But I like challenges. There's an adrenaline rush that kicks in when you start to understand something."
Unlike his arrival as a freshman to a city and campus he had never seen, this time Zaithwa was familiar with New York, especially its banking sector. He participated in a student hedge fund project his junior and senior years at RMU, and the team had connections with industry professionals and asset managers, and visited the headquarters of Morgan Stanley in 2019.
When he does have free time, Zaithwa says he enjoys trying out new restaurants and different international cuisines, especially Thai and Turkish food. He talks to his mom back in Malawi frequently, and soon he hopes to finally make his first visit home since 2018, the summer after his freshman year, which was the last time he got to hug her.