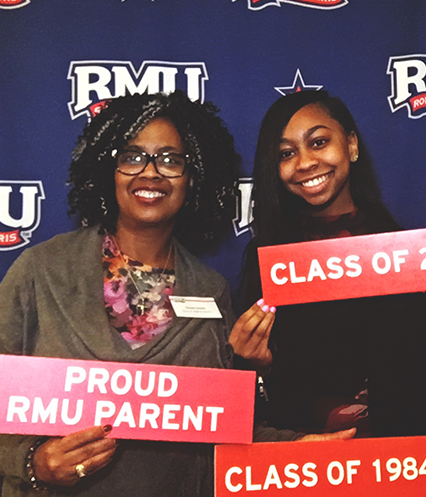 "My undergraduate years were some of the best four years of my life."
Just three days after Susan Green Smith '84 M'11 walked across the commencement stage, she landed a full-time managerial job at Gold Circle Stores. For the next two decades she would work in the business management industry, holding positions at Hills, Express, Dollar Bank, and LSI. 
Then in 2006, shortly after being laid off, her husband, Melvin, died unexpectedly. She found herself alone with her three children and no income. But Susan was resilient, and received a teacher's aid position at Beaver Falls middle school, where she found her new sense of purpose.
"I loved working with the kids and found that I really connected with them," she says. "The other teachers encouraged me to go back to school and get a teaching certificate." So when it came time to look for schools, there was only one university she had in mind. 
"My undergraduate years were some of the best four years of my life," she says. "It was academically challenging, highly accredited, I met lifelong friends, and was heavily involved in extracurriculars. So I only applied to Robert Morris."
Just as she was about to start her degree, Susan took a new job with BCRC (Beaver County Rehabilitation Center), a private nonprofit that works with at-risk youth dealing with mental health disorders, juvenile behavior, and special needs. 
"My graduate program was perfect for me because it was directly related to what I did at my job everyday," she says. Her academic advisor even helped tailor her course schedule so she could take classes on teaching students with special needs, even though it wasn't part of her program. 
Fast forward ten years and Susan's youngest daughter, Sydney, is in the middle of her college search process. After vowing not to attend Robert Morris because it was too close to home, Sydney indulged her mother by attending an RMU Alumni Legacy Luncheon with her, which immediately changed her decision. 
"It was really the driving force that led me to think about going to Robert Morris," says Sydney. "I met the dean of the School of Communications and Information Systems, which I thought was really unique."
She also learned that RMU had a 95 % placement rate and offered her major, corporate communications, both of which helped solidify her decision. Not long after her private tour, Sydney became the second Colonial in the family. 
"It's exciting to be in the same place as my mom. She and I have a special bond because of Robert Morris that she doesn't share with any of my sisters," says Sydney.
Susan is still connected to RMU outside of Sydney being a current student. In 2018 she returned to campus for Homecoming and is looking forward to coming back for this year's celebration on Sept. 14.