Photo Upload
Your RMU ID Card is the tool that every student, faculty and staff member needs on their first day. Submit your photo to us in advance and allow us to prepare your RMU ID Card for you! Online photo submission is quick and easy.
Access your online photo submission here: rmu.edu/onlinephoto *
* Currently, photo upload is open only to students who do not already have a photo on file with the university. This is in order to keep traffic down in preparation for Welcome Week. During the semester, we will open it up to all students who would like to update their photo.
You will be required to show an official government-issued photo ID when you pick-up your card.
Online Photo Submission is a convenience that RMU offers online. Please follow the instructions detailed below to submit your photo.
Acceptable and Unacceptable Photo Submissions
Acceptable Photo Submissions
Current (taken within the last six months) color photo
JPG format
Neutral color and smooth background
Proper lighting (#nofilter)
Centered and front view of full face
Cropped from just above the top of the head to the collarbone
Eyes open and visible
Wear prescription glasses if you normally do so
Maximum file size of 5 MB (5120 KB)
Minimum dimensions of 260 x 300 pixels
Unacceptable Photo Submissions
Wearing hats, sunglasses or other items that obscure the face
Glare on glasses; closed eyes
Shadows on the face
Other visible people, objects, or text
Inappropriate expressions
Group photos
Blurry photos
Black and white photos
Photos with your hand resting on your face
Crop off the top of your head or side angle your face
Photo Submission Instructions
Photo Submission is easier with a smartphone, but can be accomplished with a personal computer as long as you have access to the photo you want to use and a photo of your government issued ID
If you are new to the University you will receive an email from the RMU ID Card office inviting you to upload your photo. You can also access the photo upload site here: rmu.edu/onlinephoto
Once you follow the link, enter in your RMU email address.
It will send you an additional email (to verify you have access) and send you another link to log into the site.
After you log in you will see screen #1 (below)
Tap the black square at the bottom and allow the site access your phone's camera.
Have someone take a picture of you against a plain, light background.
The site will adjust the image to the correct orientation. (Screen #2)
After this you must upload a picture of a government ID
Click next, and once again click the black square. (Screen #3) and upload the picture of your ID
At this point you can change your photo, or if satisfied, submit and sign out. (Screen #4)
Screen #1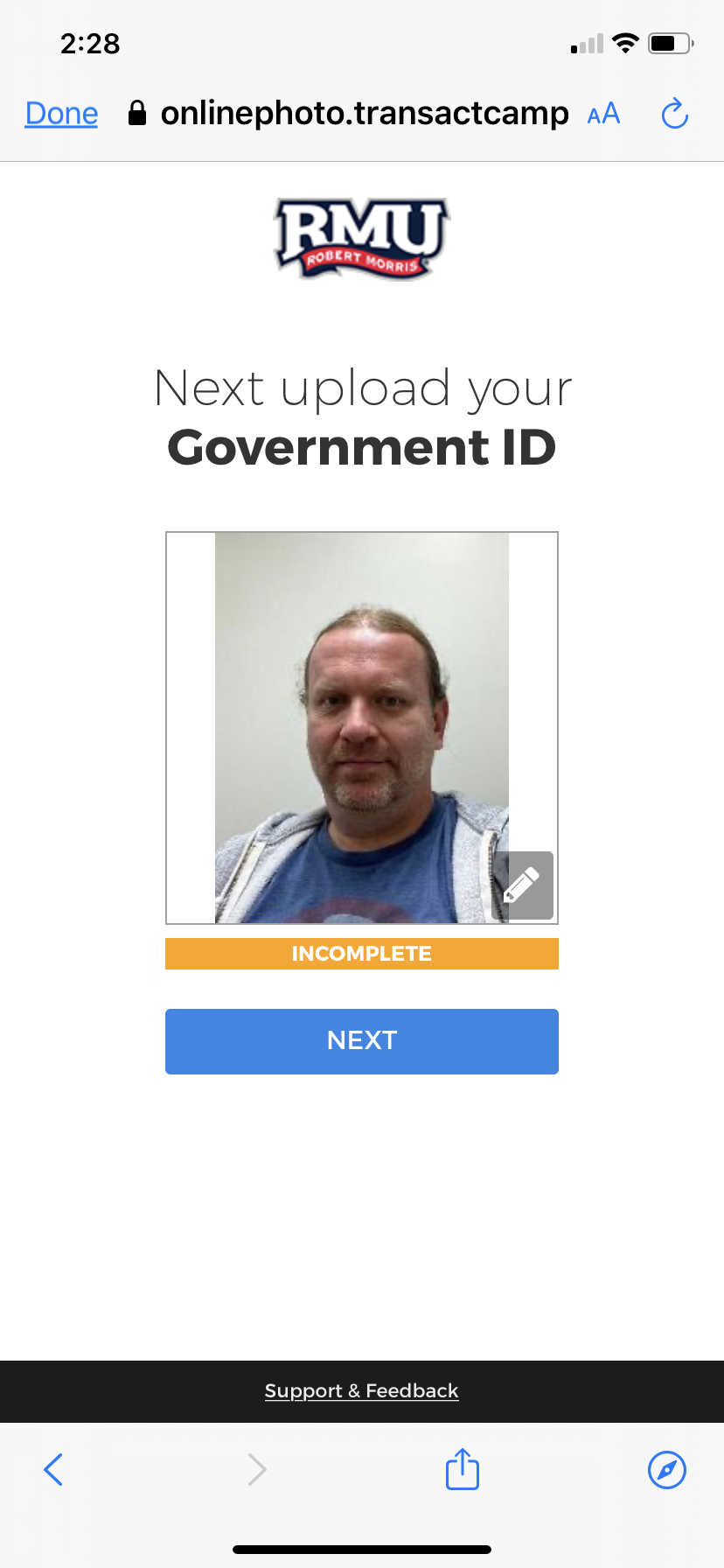 Screen #2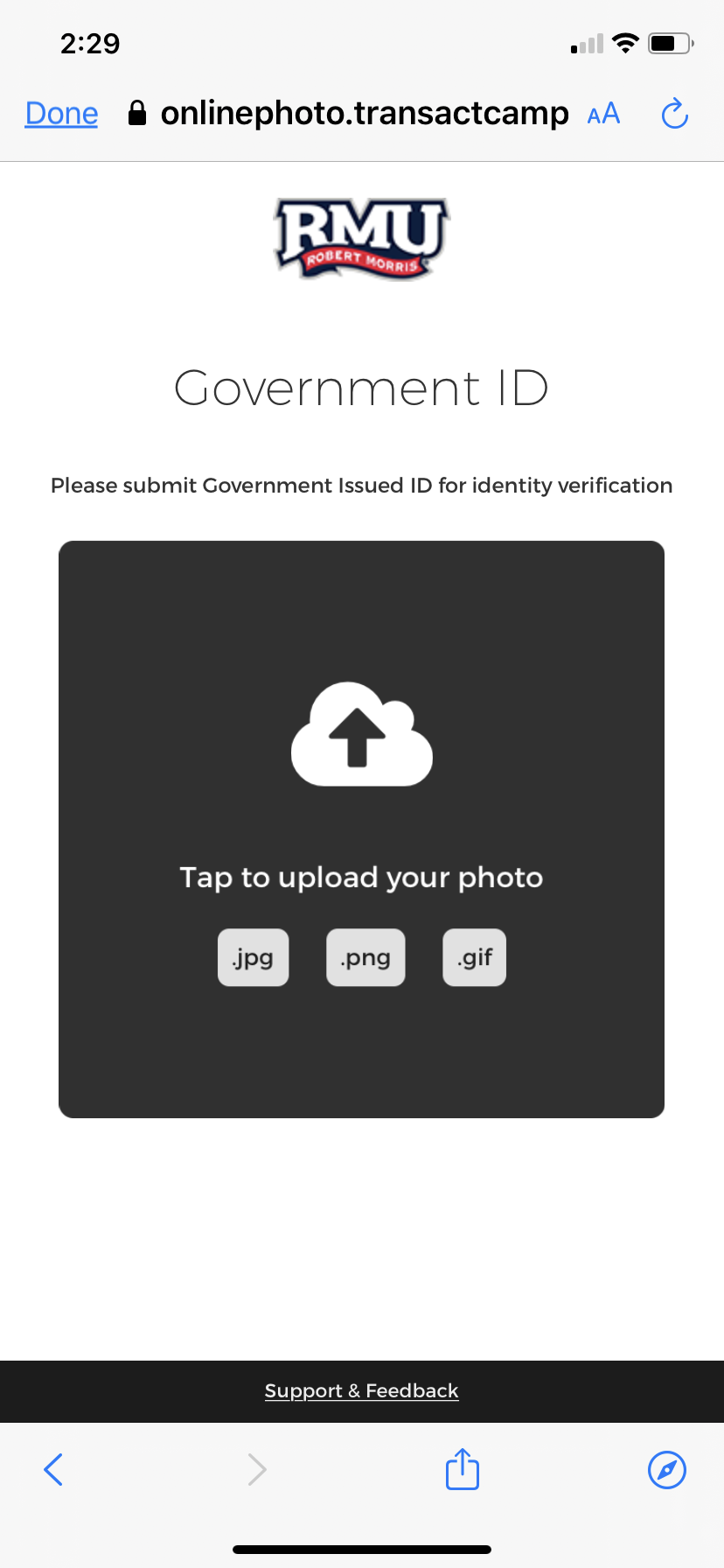 Screen #3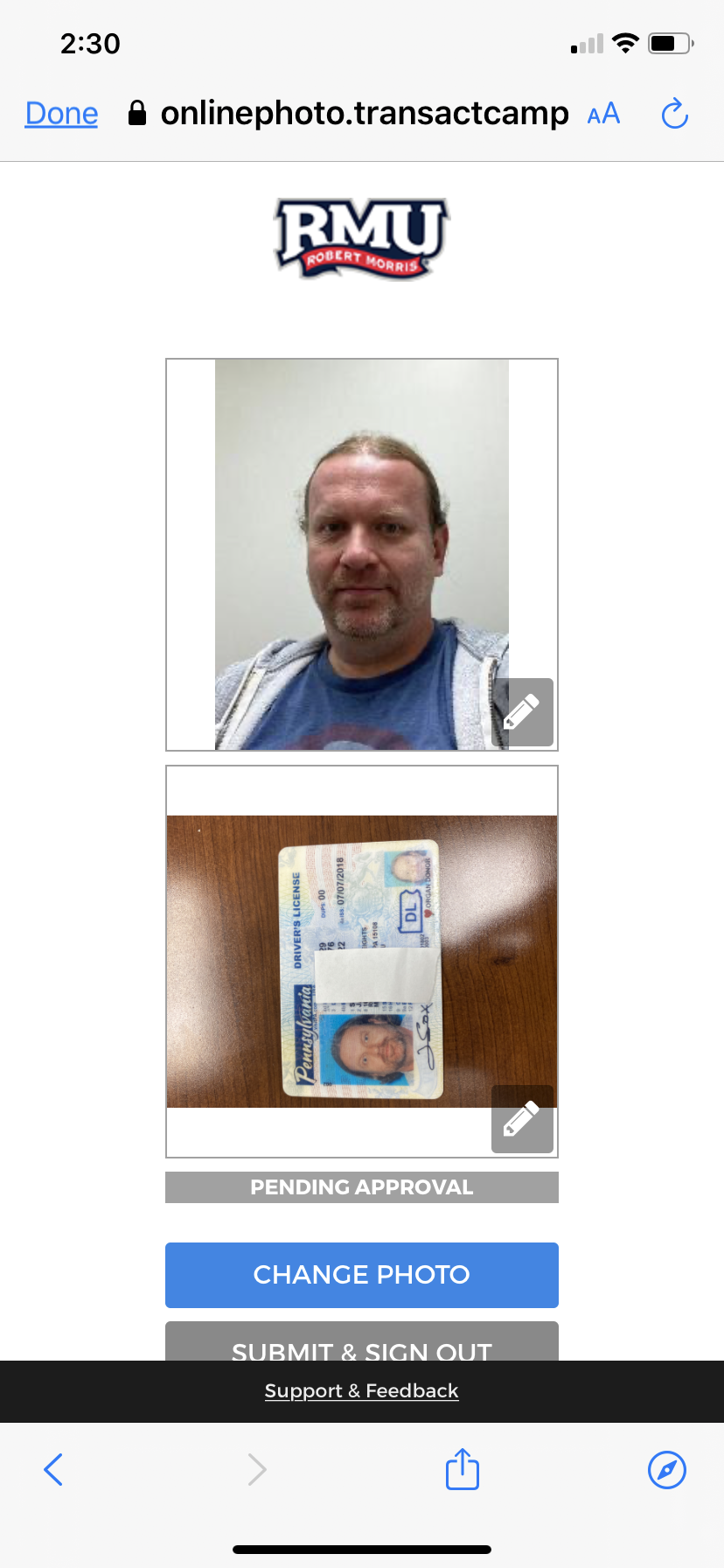 Screen #4
Feel free to email or call if you have any questions:
307 Nicholson Building
6001 University Boulevard
Moon Township, PA 15108    
412-397-5496