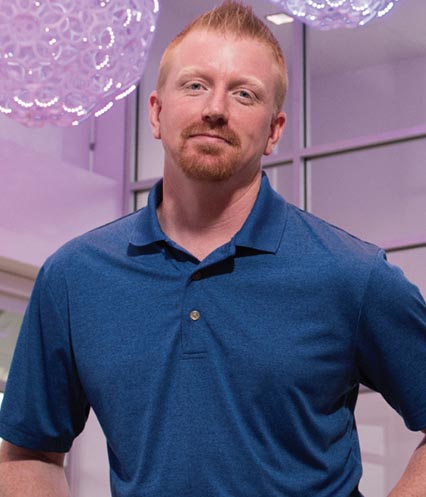 "RMU taught me how to learn, and that's what this job is."
After running a construction company for 15 years, Jake Schoonhoven enrolled at RMU to complete a manufacturing engineering degree. A born tinkerer with a tool-crammed garage, Jake dug into filament research with one of his professors, a 3D printing expert who suggested he should look into the fast-growing field of additive manufacturing.
As soon as Jake earned his diploma, he got a job at General Electric's additive manufacturing research center in nearby Findlay Township. Not the first RMU graduate hired at the gleaming new facility, Jake works with the direct metal laser machine team, using lasers to weld layers of metal powder. And typical of the start-up environment, as a new hire Jake has had the opportunity to get involved with everything from operation to research to shop layout.
Facility director Jen Cipolla says she has been so impressed with Jake and other RMU alumni and student interns that she joined the board of visitors for the School of Engineering, Mathematics and Science. Now she works closely with the dean to make sure future RMU graduates continue to be well prepared for the demands of the workforce.