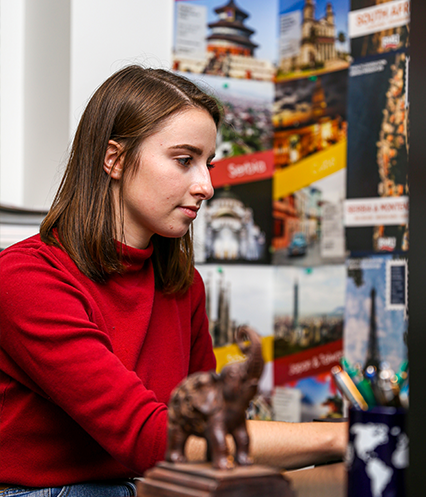 "Without Robert Morris, I would never have had the opportunity to travel to Oman and Morocco to improve upon my Arabic speaking skills."
Margo is a 4.0 honors student who is actively involved in campus life as a community advisor and member of the Women's Leadership and Mentorship Program. What you might not know about Margo is, she is fluent in Arabic.
When her RMU journey began, Margo knew she'd receive a world class education in business administration, accounting and finance, but she didn't know she'd have the opportunity to learn Arabic and travel the globe.
Margo pursued prestigious scholarships with the help of the Office of Scholar Development, and was awarded the Vira I. Heinz Women and
Global Leadership Scholarship and the Critical Language Scholarship from the U.S. Department of State. Margo traveled to Oman and Morocco to become immersed in the Arabic language. She focused on studying and mastering a foreign language that is critical to national security and economic prosperity.
"Robert Morris has opened me up to a wealth of knowledge and experience. Without Robert Morris, I would never have had the opportunity to travel to Oman and Morocco to improve upon my Arabic speaking skills."