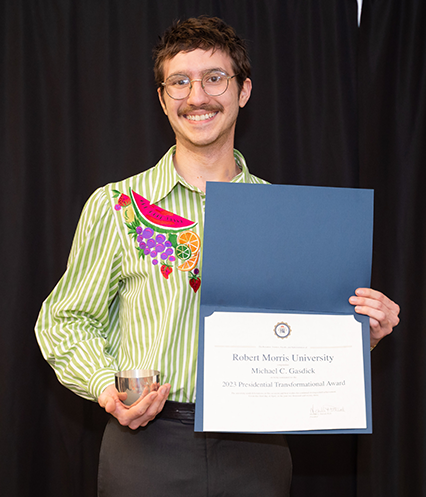 "I have felt so much love and compassion from all of the faculty at RMU, as well as the students here. And it's really made RMU feel like a second home."
Meet Michael Gasdick '23
Michael graduated this May with a bachelor of science in biology.
Now he will be obtaining his masters and doctorate in horticulture and crop sciences at Michigan State University!
Last summer, Michael worked as a plant genomics REU intern at Michigan State.
"What makes me #Unstoppable is the confidence I've been able to develop and build as a result of all of the faculty. That confidence has carried through to where I am now. I have felt so much love and compassion from all of the faculty at RMU, as well as the students here. And it's really made RMU feel like a second home."
While at RMU, Michael was on the men's club volleyball team and was a lead tutor and tutor administrator at the center for student success. He was also a 2023 Presidential Transformational Award finalist! #Unstoppable #rmugrad23