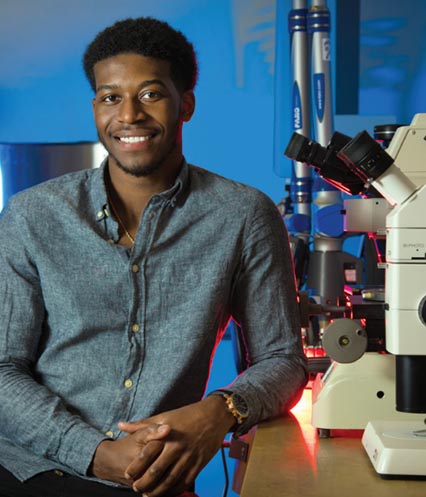 "A faculty mentor took me under his wing and brought me to a local gathering of professionals. It really helped confirm what I wanted to do with my career."
When Nolen Keeys was doing his college search, he knew he wanted a place that would allow him to modify a traditional pre-med curriculum in a way that catered to his interest in math and science. RMU's program in biomedical engineering turned out to be the perfect fit.
As a sophomore, Nolen became the first RMU student to be named an Institute Scholar by the Institute for Responsible Citizenship in Washington, D.C. It placed him in internships in the nation's capital for two consecutive summers — first in Howard University's orthopedic department, where he got an inside look at his chosen career field, and the next summer at the NFL Players Association, informing players about possible mental health issues and available services. As senior, Nolen conducted research on shoulder prostheses. He also made an impact as a peer tutor and as president of RMU's chapter of the National Society of Black Engineers.