Counseling Psychology M.S.
Apply Today
The M.S. in Counseling Psychology is a two-year cohort program that provides a foundation in counseling skills, assessment, and individual and group therapy. It offers students the opportunity to gain supervised practical experience in a formal practicum and internship.
Students learn how to understand client issues and needs in a variety of settings, and then collaboratively put individually tailored intervention plans into action. Graduates meet the core educational requirements for licensed professional counselor (LPC) in the state of Pennsylvania.
Contact Information
Samantha J. Monda, Ph.D. 
Associate Professor of Psychology
Coordinator, MS in Counseling Psychology 
monda@rmu.edu
412-397-6036 
Kathryn Dennick-Brecht, Ed.D. 
Department Head, Social Sciences
brecht@rmu.edu
412-397-5419 
Course Plan

Year 1, Summer

PSYC6060: Advanced Developmental Psychology (8)
PSYC6010: Counseling Psychology: Orientation and Ethics (8)

Year 1, Fall

PSYC7010: Theories of Counseling (8) 
PSYC7020: Counseling Skills (15)
PSYC7050: Advanced Psychological Assessment (15)
PSYC7040: Psychopathology (8)

Year 1, Spring

PSYC6070: Research and Program Evaluation (8)
PSYC7050: Assessment, Appraisal, and Treatment Planning (15)
PSYC7320: Counseling Psychology Practicum (15)
PSYC6020: Career Development (8)

Year 2, Summer

PSYC6030: Foundations of Multicultural Counseling (8)
PSYC6050: Foundations of Addiction (8)    

Year 2, Fall

PSYC7060:Group Counseling (8)
PSYC7090: Advanced Counseling Skills (15)
PSYC7420: Counseling Psychology Internship I (15)
PSYC7070: Child & Adolescent Counseling (8)

Year 2, Spring

PSYC6040: Grief & Bereavement(8)
PSYC7510: Supervision and Consultation (15)
PSYC7520: Counseling Psychology Internship II (15)
PSYC7080: Couples and Family Counseling (8)
Additional Program Information

Please note that admission to the program is competitive. Limited spaces are available and application does not guarantee acceptance

Program Requirements

3.0 cumulative undergraduate GPA
Successful completion of a personal interview
Official undergraduate transcripts from all universities attended (Additional core undergraduate psychology classes may be required for full admission.)
Essay (see below)

It is important for prospective students to give due consideration, and reflect on, themselves and their interest in training to become a professional counselor. Hence, in addition to the other materials and criteria listed above, the admissions committee is interested to know what has led you to pursue a career as a professional counselor.

Please provide a typed essay (500 word limit) that addresses the following questions:

What kind of career in professional counseling are you interested in pursuing and how did your interest develop?What is your current conceptualization of what a counselor does?
What personal strengths and weaknesses would you say that you have that could impact your effectiveness in this role?
What led you to the M.S. in Counseling Psychology program, and how do you think it can benefit your career aspirations?

Please submit the essay to graduateadmissions@rmu.edu along with your application.
Sample Courses:
These are some of the classes for students in this academic program:
Theories of Counseling
Foundations of Addiction
Grief & Bereavement
Top Employers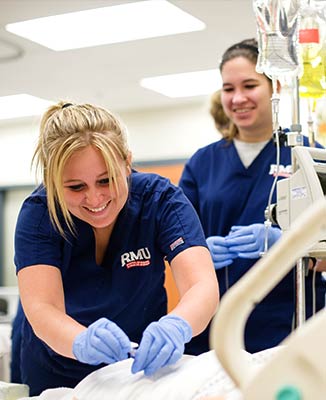 School of Nursing, Education and Human Studies
More than ever before, today's complex healthcare environment needs skilled clinicians,  expert communicators, and good people. Our students are about more than a major.
Visit School Site