Health Services Administration M.S.
Apply Today
The M.S. in Health Services Administration focuses on the latest techniques in management, strategic planning, organizational leadership, budgeting and finance, research and evaluation, and communication. The program is designed to prepare individuals to advance as leaders in a wide variety of healthcare organizations. Graduates have the marketable skills to position themselves for advancement.
Contact Information
William Wentling II, DSc, MS, RT(R)(N), CNMT
Department Head, Health Sciences
wentling@rmu.edu
412-397-5486 phone
Holly Hampe, DSc, RN, MHA, MRM
Health Services Administration Program Director
hampe@rmu.edu
412-397-5483 phone
Course Plan

Year 1 - Fall Semester

MS HSA 6020 Executive Leadership in Healthcare
MS HSA 6030 Performance Improvement & Quality management in Healthcare
MS HSA 7901 Preparation for Capstone

Year 1 - Spring Semester

MS HSA 6050 Strategic Planning & Marketing
MS HSA 6040 Accountable Care Management & Finance
MBAD 6005 Fundamentals of Accounting and Finance

Year 1 - Summer Semester

MS HSA 6080 Healthcare Logistics & Operations
MS HSA 6060 Healthcare Policy, Law & Politics

Year 2 - Fall Semester

MS HSA 6310 Evidence-based Decision Making for Healthcare Managers
MS HSA 6320 Coordinated Care & Population Health Management

Year 2 - Spring Semester

MS HSA 6330 Managing Healthcare Information Systems
MS HSA 6340 Health Care Negotiation & Conflict Resolution

Year 2 - Summer Semester

MS HSA 6350 Inter-Professional Management & Diversity
MS HSA 7903: Internship/Capstone Research Project
HSAM 6120 Ethical and Legal Issues in Healthcare
Sample Courses:
These are some of the classes for students in this academic program:
Healthcare Policy, Law & Politics
Managing Healthcare Information Systems
Performance Improvement & Quality Management in Healthcare
Top Employers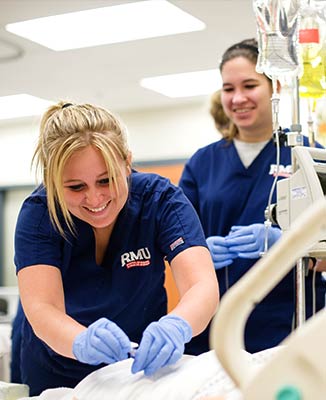 School of Nursing and Health Sciences
More than ever before, today's complex healthcare environment needs skilled clinicians,  expert communicators, and good people. Our students are about more than a major.
Visit School Site