Information Systems and Communications Ph.D.
Apply Today
Availability
Available - On Campus
Available - Online
Earn a doctorate in three years without quitting your job. The Ph.D.-ISC at RMU is an executive-style part-time degree program that features supportive expert faculty, a high success rate, a collaborative cohort model that builds professional networks, and an interdisciplinary approach to information systems and communications that strengthens your credentials. 
The Ph.D. in Information Systems and Communications is the only one of its kind in the Pittsburgh region designed for young professionals, seasoned career professionals, top executives, and adult learners in the professional fields of technology, information systems, and communication who manage information resources:
Chief information officers, chief knowledge officers, network administrators, in-house consultants, training specialists, and other managers of information systems and technology in corporate and professional organizations
Educators, academic administrators, and information managers in educational institutions
Professionals in accounting, finance, MIS, management, marketing, health care administration, telecommunications, and corporate communications whose qualifications will be enhanced by a doctoral degree.
Curriculum consists of nine interdisciplinary content courses (27 credits) that develop applications of theory in a range of information systems and communication contexts, research methodology courses (15 credits), colloquia seminars (3 credits), and dissertation writing directed studies (15 credits). The 60-credit program culminates in a dissertation that analyzes and solves an information systems and communications problem chosen by the doctoral candidate.
The executive format assures student success and minimizes isolation by scheduling 5-day residencies in late August and early January, with two additional weekend residencies scheduled in both fall and spring for each of the three years. Campus in Moon Township is conveniently located just two miles from Pittsburgh International Airport. During their on-campus residency, Ph.D. students enjoy networking with their fellow cohort members, building relationships with faculty, and personal attention from their advisor. This collaborative environment is why 90+% of students graduate within three years, whereas most doctoral programs take more than twice as long to complete.
A limited number of one time, needs-based, partial scholarships are available for newly admitted Ph.D. students.  Contact the Office of Graduate Admissions for more information and a scholarship application. Call 800-762-0097 or email graduateadmissions@rmu.edu.
Contact Information
Petros G. Malakyan
Acting Director
malakyan@rmu.edu
412-397-6302 phone
Wheatley Center 211
Michelle Yamada
Administrative Assistant to Graduate Programs, SIHSS
yamada@rmu.edu
412-397-6680
Wheatley Center, 3rd Floor
Recommended Course Sequence

Year 1

Fall

ISCM8010 Colloquium Orientation Seminar I (CS-I) – 1 credit
ISCM8110 Theories in Action in Information Systems and Communication (IDC-I) – 3 credits
ISCM8120 Information Systems and Communication in Cybersociety (IDC-II) – 3 credits
ISCM8130 Introduction to Research Process for ISC (RMC-I) – 3 credits

Spring

ISCM8140 Information Design and Human Communications for ISC (IDC III) – 3 credits
ISCM8150 Theory Development & Knowledge Management for ISC (3 credits)
ISCM8160 Rhetorical, Semiotic and Ethno-cultural Foundations for ISC (IDC-IV)– 3 credits
ISCM9100 Dissertation I – Research Topic Development (DSC-I) – 2 credits

Summer

ISCM9200 Dissertation II – Literature Search (DSC-II) – 3 credits online

Year 2

Fall

ISCM8020 Colloquium Seminar II (CS-II) – 1 credit
ISCM8210 Advanced Research Design for ISC (3 credits)
ISCM8220 Data Analytics: Managerial Perspectives (IDC-VI) – 3 credits
ISCM8230 Quantitative Research Methods I for ISC (RMC III) – 3 credits

Spring

ISCM8240 Qualitative Research Methods for ISC (RMC-IV) – 3 credits
ISCM8250 Quantitative Research Methods II for ISC (RMC V) – 3 credits
ISCM9300 Dissertation III – Dissertation Proposal Completion & Defense (DSC-III) – 2 credits

Summer

ISCM9400 Dissertation IV – Data Collection (DSC-IV) – 3 credits, online

Year 3

Fall

ISCM8030 Colloquium Seminar III (CS-III) – 1 credit
ISCM8310 Economics of Information Systems in the Digital Age (IDC-VII) – 3 credits
ISCM8320 Information Security and the Law (IDC-VIII) – 3 credits
ISCM9500 Dissertation V – Data Analysis (DSC-V) – 3 credits

Spring

ISCM8330 Contemporary Issues in ISC (IDC-IX) – 3 credits
ISCM9600 Dissertation VI – Dissertation Completion & Defense (DSC-VI) – 2 credits
Faculty Bios

Stuart Allen is a Professor in the Department of Organizational Leadership. He started his career as an industrial/organizational psychologist working in South Africa, before becoming a full-time academic focused on leadership. He has worked with organizational leaders from various industries and has consulted to organizations in the information technology, corporate, education, healthcare, nonprofit, and government sectors. His consulting experience includes executive coaching, leadership development, change management, human resource management, organizational development, and team development. Dr. Allen is an active researcher with interests in leadership, teaching with technology, inclusive classrooms and organizations, sustainability, and research methods.

Jeanne Baugh has been a faculty member at Robert Morris University since August 2001, where she has attained the rank of University Professor of Computer and Information Systems. She holds a BS in Computer Science/ Industrial Management from California University of PA, a MS in Computer Science and an EdD in Education, both of these from West Virginia University. Dr. Baugh has taught many different courses in the Computer and Information Systems Department at the Undergraduate, Master's and Doctoral levels. Her main focus is in the area of programming languages and Database Management. She has a great deal of experience in the design and creation of databases to support the work of various Physicians in a number of medical specialties at several Pittsburgh hospitals. Additionally, she has designed and built a database for the Pittsburgh Pirates, which tracks all medical information related to the baseball team. Her work has been published in various journals and presented at a number of professional conferences. She has also received several awards for her publishing.

Natalya Bromall was born in Ivanovo, Russia, and received her BS and MS degrees in Mathematics from Ivanovo State University. She graduated from Utah State University with a Ph.D. in Business Information Systems and Education and held academic positions in multiple universities, prior to joining RMU in 2013. Dr. Bromall is currently an Associate Professor of CIS; her areas of interest include cloud services, cyber security, data-driven programming, and database management. She has multiple publications in academic journals and conference proceedings, and is a certified AWS Cloud Academy instructor.

Donna Cellante is a Professor of Computer and Information Systems at Robert Morris University. Dr. Cellante earned an Ed.D. from the University of Pittsburgh in Administrative and Policy Studies (Curriculum and Supervision). She is a certified Business, Computer, and Information Technology teacher. Dr. Cellante has been at Robert Morris University in several capacities: Professor of Computer & Information Systems, Professor of Education, Associate Dean, Department Head, Director, and Coordinator. Her research interests include women in technology, STEM + C (computing), middle school girls and computing careers, and business teacher education. She has published papers in journals such as Issues in Information Systems (IIS), Association for Information Technology Professionals (AITP), Decision Sciences Institute (NEDIS), and Business Education Forum.

Peter Draus is an award winning instructor, researcher and administrator who has worked in all aspects of the Information Technology field from programmer up to senior management. He has written programs on the largest super computers and smallest microcomputers. In academia Dr. Draus has held multiple administrative positions at multiple schools ranging from department chair to Dean. At the University of Pittsburgh he was in charge of the largest online program at the university. He has been a faculty member at Robert Morris University since December 2006 where he was responsible for bringing the first fully online program to Robert Morris University. He has won teaching awards at multiple institutions and currently focuses his teaching on programming, database design and quantitative analysis. He is also an award winning researcher and has worked on multiple grants funded at over 2 million dollars. His current area of interests are Interface design, health care informatics and security. Dr. Draus earned his doctorate from the University of Pittsburgh in Instructional Design and Technology. He earned his MS and BS in Information Technology at the same institution.

A.J. Grant is a University Professor of Organizational Leadership at Robert Morris University in Pittsburgh, PA. Grant's research interests include historical and contemporary topics in rhetoric, ethics, popular culture, and leadership. Recent publications include "Ethos, Pathos and Logos: Rhetorical Fixes for an Old Problem: Fake News" and "Does G-d Lie: Dissembling in the Holy Books, both forthcoming from the Informing Science Institute. Grant has also published articles in Rhetoric Society Quarterly, Leadership and the Humanities, The Journal of American Culture, and the Journal of Leadership Studies. Grant received his Ph.D. in Rhetoric and English from Northern Illinois University, an MAT from Wheaton Graduate School and a BA in English Literature and Writing from the University of Pittsburgh.

Ann D. Jabro, PhD (Pennsylvania State University) is university professor of communication at Robert Morris University where she serves as president of the American Federation of Teachers Local #3412. Jabro has earned numerous teaching distinctions for her abilities to integrate and apply scholarship and theory to practical contexts. Jabro serves on the Boards of Carlow University's communications program, Rehabilitation Group of Pennsylvania, and North East Health Group. A former producer and reporter in regional and national public and commercial television markets, her research initially focused on media literacy, leadership, gender and workplace problem solving and decision making processes. Dr. Jabro's research interests evolved through consulting work to include risk, crisis, and reputation management in environmental and industrial settings; negotiation, facilitation and conflict resolution in group and organizational settings, and messaging creation and distribution for traditional and social media. Dr. Jabro's pedagogic research focuses on experiential learning in traditional and virtual learning environments. Dr. Jabro is a member of the Educator's Academy of the Public Relations Society of America, past president of the Pennsylvania Communication Association, and served as chair of the Middle States Reaccreditation Effort for RMU where she developed work practices, evaluation measures and coordinated the work of 105 faculty, staff and administrators to achieve commendations from Middle States on the process and final report. Dr. Jabro research has been funded by state and private entities. She served as Editor for Annual and has published numerous peer reviewed articles, conference proceedings and serves as a reviewer for national and international peer reviewed journals.

Frederick G. Kohun, Ph.D., University Professor of Computer and Information Systems at Robert Morris University in Pittsburgh, Pennsylvania has significant experience as a professor and academic administrator (department head, associate dean, dean, and associate provost), and was the founding director of the doctoral program in Information Systems and Communication. He holds a bachelor degree in economics from Georgetown University, graduate degrees in economics and information science, from the University of Pittsburgh, and a Ph.D. in applied history in technology from Carnegie Mellon University. At Robert Morris University he led the design and implementation of eight technology based academic programs at the undergraduate and graduate level (including a doctoral program) as well as the attainment of ABET-CAC accreditation He is known both nationally and internationally from his numerous publications and presentations in economics, health informatics, decision support, technological impact, and culture—including his research in the MUMPS programming language that began with his doctoral dissertation at Carnegie Mellon University. Currently, he is active internationally as an accreditation evaluator and team leader having participated in more than 22 accreditation visits. In 2007 he was named the International Computer Educator of the Year by the International Association of Computer Information Systems. In 2012 he received the honor of an endowed doctoral scholarship fund under his name. Additionally, he was recently named as the first Fellow and Distinguished Scholar by the International Institute in Applied Knowledge Management.

Paul Kovacs is a University Professor of Computer and Information Systems. Kovacs has taught computer and information systems courses at Indiana University of Pennsylvania, Neumann University, and Duquesne University. Industry experience includes Computer Systems and Analysis work at PNC Bank, Bank of NY Mellon, and the Equitable Gas Company in Pittsburgh. Kovacs received his doctorate and master's degrees in Educational Communications and Technology from the University of Pittsburgh and a BS in Education for California University of Pennsylvania. His research interests include pedagogy in higher education such as how students learn and interact with technology as well as topics concerning Big Data and Data Analytics and has numerous publications in conference proceedings and in academic journals.

Barbara Levine is an Associate Professor of Communication at Robert Morris University. Dr. Levine earned her Ph.D. and M.A. degrees in Communication Arts from the University of Wisconsin-Madison and a B.A. in Psychology, also from UW-Madison. Prior to joining RMU's faculty, Dr. Levine was an Assistant Professor of Language, Literature and Communication at Rensselaer Polytechnic Institute. Over the next 10 years, she held positions in corporate communication and managed the retirement benefits function. Since joining RMU, Dr. Levine has served for 18 years in academic administrative functions, including Dean of the School of Communications and Information Systems. She is currently a full-time faculty member in the Communication Department and a member of the doctoral faculty. Her research interests include user experience design and testing, strategic communication, and technical communication.

Karen Paullet has been a faculty member at Robert Morris University since May of 2009 where she teaches Cyber Security. She holds a BS in Information Systems, a MS in Communications and Information Systems, and a DSc. in Information Systems and Communications from Robert Morris University. In addition Dr. Paullet has spent over 13 years working with law enforcement preparing cases using digital evidence for trial. She has spoken at over 200 engagements nationally and internationally to include agencies such as NASA, the Nuclear Regulatory Commission, NIST, Department of Energy and the Federal Reserve on the Dangers of Social Network Sites, Mobile Security Threats, Privacy of Information, Information Sharing and the CSI Effect. She has applied her research interests to educate students, organizations, law enforcement and government agencies. Her work has been published through various journals to include Issues in Information Systems, Journal of Information Systems (JISE) and the Journal of Information Systems of Applied Research (JISAR). Dr. Paullet has received numerous awards to include Distinguished Achievement Award for Service, Excellence in Teaching Award, and Academic Excellence Award. She brings her professional experience in law enforcement and teaching to serve and educate others in the community.

Jamie Pinchot is an Associate Professor of Computer and Information Systems at Robert Morris University in Pittsburgh, PA. Dr. Pinchot earned a D.Sc. in Information Systems and Communications and an MS in Communications and Information Systems from Robert Morris University. She received her BA in Computer Science and AA in Management Information Systems from Thiel College. Her research interests include mobile technologies, information security and privacy, social media, and the intersection of technology use and culture. Dr. Pinchot spent more than nine years working in IT in various capacities including web development, web interface design, web integration with legacy systems and most recently as a Senior IT Consultant specializing in enterprise online collaboration tools, social media, and mobile technologies. She has published papers in journals such as the Journal of Information Systems Education (JISE), the Journal of Information Systems Applied Research (JISAR), Information Systems Education Journal (ISEDJ), and Issues in Information Systems (IIS).

Robert Joseph Skovira, Ph.D., M.S., M.A., B.A., is a University Professor of Computer Information Systems in the Department of Computer and Information Systems. He has been at Robert Morris University for 27 years. Prior to coming to RMU, he taught at the University of Virginia and the University of Houston Victoria (Texas). He teaches (taught) undergraduate and graduate (MS) courses including Java Programming, Secure Programming, Global, Economic, Social, and Ethical Issues of Computing, Decision Support Systems, Information Design, and Ethical and Legal Issues of Technology. In the Doctor of Science program he teaches (taught) Ethnography of Information Systems. He has co-taught with Dr. Kohun Knowledge Management. He has guided 11 doctoral candidates to the completion of their dissertations. Dr. Skovira has written two books (on Web Site Design), three book chapters, and is the author and co- author of numerous articles and conference papers (nationally and internationally). He was visiting professor at Comenius University, Bratislava, Slovakia, in 1997 and 2006. Dr. Skovira's research interests include information and information system use within organizations (politics of information, information system bias), cultural and moral frameworks, decision making and knowledge management, information and ontology, phenomenology of the social and cultural environment, information literacy, visual literacy, visual communication, and information design and thinking visually.

Wenli Wang is a Professor of Computer and Information Systems at Robert Morris University. She obtained her Ph.D. in Management Science and Information Systems from the University of Texas at Austin in 2000, and subsequently held academic posts at Emory University, University of Nevada at Las Vegas, and Trident University. Her current research focuses on cybersecurity, health informatics, artificial intelligence, and rich media. She has 20+ journal and 40+ conference publications. She has published in Journal of Economic Theory, Decision Support Systems, IEEE Computer, International Journal of Electronic Commerce, Communications of the AIS, Journal of Information Technology Management, Technology in Society, etc. She has served on the editorial boards of Journal of Database Management and International Journal of E-business Research. Her other research interests are game theory, organizational behavior, leadership, ethics, mindfulness, control and assurance. She received her B.S. in Computer Engineering & Telecommunications from Beijing University of Posts & Telecommunications in 1994.

David F. Wood, Ph.D. is Associate Dean, School of Communications and Information Systems and Director of the Doctor of Science in Information Systems & Communications at Robert Morris University. He earned his Ph.D. in Business Administration and Master of Business Administration in Operations Research from the University of Pittsburgh and a BS in Physics from Carnegie Mellon. His areas of expertise are in Information Systems Curriculum and IS Program Accreditation. He helped to secure the most recent ABET re-accreditation, which is current until September 30, 2022.
Additional Program Information
Sample Courses:
These are some of the classes for students in this academic program:
Theories in Action in Information Systems and Communication
Qualitative Research Methods for ISC
Economics of Information Systems in the Digital Age
Top Employers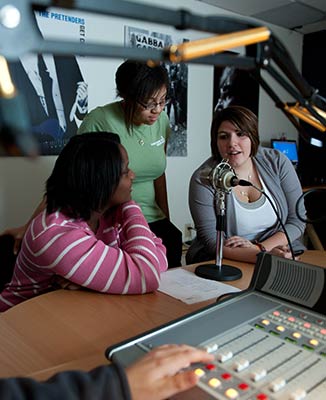 School of Informatics, Humanities and Social Sciences
Focus on delivering information in a way that makes an impact. Create images that capture attention, compose words that inspire, and design technology that changes how we live.
Visit School Site