Literacy M.Ed.
Apply Today
The M.Ed. degree program in Literacy with Reading Specialist certification provides classroom teachers with the tools to better manage resources in the classroom for students with literacy needs. The program offers both a theoretical and applied approach to working with students' literacy problems in the classroom. Candidates learn to assess reading difficulties, implement appropriate literacy instructions, and use data-driven instruction to plan school-wide literacy programs.
Students enrolled in the reading specialist program take 27 credits to meet the competencies for K-12 reading specialist certification in Pennsylvania. Unlike other programs, students take a course in structured literacy and an optional structured literacy practicum. Students interested in earning a master's in literacy are then required to take nine additional credits to complete the program (36 credits required for master's degree with an additional one credit option).
Full tuition scholarships are available for the structured literacy standalone course and/or the practicum. Students enrolled in the reading specialist program and local teachers take the course each year. Once students complete this course, they are then given the option to add a practicum so candidates can apply the skill set learned in the classroom. Both the course and optional practicum are aligned with the International Dyslexia Association's Knowledge and Practice Standards for Teachers of Reading.   
Scholarships up to 50% off of tuition as well as graduate assistantships are now available. The Reading Specialist program is a one-year certification program that meets the needs of working adults. Classes are offered in the evenings in eight-week sessions with an on-campus practicum. Students can pursue a Master's in Literacy with an additional nine credits.
The initial teacher preparation and advanced educator programs in the School of Education and Social Sciences have been accredited by the Council for the Accreditation of Educator Preparation (CAEP).

Contact Information
Carianne Bernadowski, Ph.D. 
Professor of Education
bernadowski@rmu.edu
412-397-5463 
Vicki J. Donne, D.Ed. 
Department Head, Education 
donne@rmu.edu
412-397-5465
Course Plan

Fall, 1st 8 Weeks

RDSP 6700 Current Trends/Issues

Fall, 2nd 8 Weeks

EDUC 6400 Reading/English Language Learners
RDSP 6710 Foundations of Literacy

Spring, 1st 8 Weeks

RDSP 6730 Assess/Intervention Adolescent
RDSP 6720 Assess/Intervention Early Literacy

Spring, 2nd 8 Weeks

RDSP 6740: Leadership/Supervision/Literacy Coaches
SPED 6020: Reading/Special Education

Summer

RDSP 6010 Structured Literacy Course
RDSP 6015 Structured Literacy Practicum 
RDSP 6750: Practicum

Take Reading Specialist Praxis Exam

Reading Specialist Certification

EDUC 6065: Educational Statistics
EDUC 6130: Research Seminar
EDUC 6140: Research Practicum
Sample Courses:
These are some of the classes for students in this academic program:
Current Trends & Issues in Literacy
Supervision of Reading Specialists
Assessment & Intervention in Early Literacy
Top Employers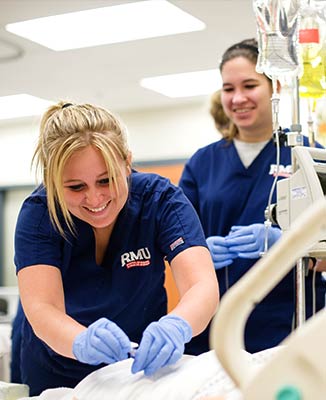 School of Nursing, Education and Human Studies
More than ever before, today's complex healthcare environment needs skilled clinicians,  expert communicators, and good people. Our students are about more than a major.
Visit School Site