Health Services Administration B.S.
Apply Today
The time has never been better to pursue a degree in health administration.
The B.S. in Health Services Administration prepares students to become leaders in healthcare organizations in a time of rapid change and expansion. Future administrators must be prepared to deal with evolving integrated patient care delivery systems, technological innovations, and an increasingly complex regulatory environment, while improving efficiency and quality.
The program integrates theory, practical experience, and relevant case studies, developing a comprehensive understanding of the healthcare industry and a focused leadership style adapted to the reality of patient care delivery today. The program ends with an internship customized based on the student's area of interest and focus.
The Health Services Administration B.S. program in the School of Nursing, Education and Human Studies is accredited by the Association of University Programs in Health Administration.
What I loved about it, all the instructors I had were already in the industry, everybody had current real-world experience, and the classes were always up to date and current.

Eric Ramsey, Director of Clinical Information Services
Millennium Physician Group, Fort Myers, Fla.

Learn about the HSA program at RMU
HSA Virtual Open House for RMU Bachelor's Program
Robert Morris University faculty and staff speak with other healthcare officials about the benefits of a Health Services Administration bachelor's degree.
Contact Information
Samantha Monda, Ph.D., NCC, CMPC
Department Head, Psychology and Health Sciences
School of Nursing, Education, and Human Studies
Associate Professor
monda@rmu.edu
412-397-6036
Holly Hampe, DSc, RN, MHA, MRM
Health Services Administration Program Director
Associate Professor
hampe@rmu.edu
412-397-5483 phone
4-Year Course Plan
Mission Statement

The Robert Morris University undergraduate Health Services Administration program prepares students, regionally and nationally, for management positions within a broad array of healthcare organizations through innovative and experiential learning opportunities. The program curriculum reflects certification standards, including evidence-based leadership principles in the healthcare environment and the quadruple aim framework. Through emphasis on networking and service activities, the students participate in a variety of opportunities and practical field experiences, transforming program graduates into effective and engaged healthcare professionals.
Competency Model

The basis for the competency model for the RMU BS Degree HSA program is from the National Center for Healthcare Leadership- Health Leadership Competency Model.  Created through the research by the Hay Group with practicing health leaders and managers across the administrative, nursing and medical professionals, and early, mid and advanced stages, it was felt this model would provide the needed foundation for this program.  The model is based on three different domains:  1) Transformation, 2) Execution, and 3) People.  Based on feedback from the HSA Advisory Board, SNHS and HSA administration and Industry experts, specific competencies from the NCHL model were selected as well as additional competencies that were specific to the HSA program, as indicated below.  It is felt that the following concepts are incorporated throughout the competencies as defined below: Human Resources, Ethics, Finance, and Legal Issues.  

Transformation

Analytical Thinking (NCHL)
Financial Skills (NCHL)
Innovative Thinking (NCHL)
Population Health (RMU)
Triple Aim (Institute for Healthcare Improvement) (RMU)
Health Economics and Policy (RMU)

Execution

Communication Skills (NCHL)
Information Technology Management (NCHL)
Project Management (NCHL)
Legal Regulatory Environment (RMU)

People

Relationship Building (NCHL)
Team Leadership (NCHL)
Professionalism (NCHL) 
Teaching, Learning, & Assessment Methods

Teaching/Learning Methods: 1)  Discussion Board Questions (written and video), 2) Focused Individual Writing Assignments, 3) Day in the Life Interviews 4) Quizzes/Exams 5) Synchronous/Simulation Exercises, 6) Weekly Learning Summaries,  7) Team Activities/Case Studies, 8) Internships/Field Assignments, 9) Reflective Papers, 10) Blogs/Journals, 11) Readings/Videos, 12) Finance or other analysis problems
 
Assessment Methods: 1) Quiz scores and feedback, 2) Presentation feedback, 3) Competency Assessments, 4) Discussion Board Rubrics. 5) Written Assignment Rubric , 6) Reflective Exercise Rubric, 7) Process Analysis Assignment Rubric,  8)Team-Self and Peer Assessments, 9) Learning Summary scoring, 10) Course participation 11) Preceptor evaluations, 12) Self evaluation and Evaluations of the Preceptor, 13) Time logs

Healthcare Professional High School Mentoring Program

Established in 2019, RMU has developed a mentoring program geared to Grades 9-12 students interested in a profession in healthcare.  The purpose of the program is to enlighten and educate high school students about different opportunities available in the healthcare industry.  

The program, following the school year, provides a different healthcare profession each month such as healthcare administration, nursing and nuclear medicine.  The participants for each month includes a healthcare professional in the particular field as well as an involved faculty and student.  The program utilizes the zoom platform since this is a format utilized by the high schools.  The sessions are recorded and sent out to each high school following the session.  The recording is made available to any interested student as well as their parents.  

At the end of the school year, all the high school students participating in the program are invited to RMU campus for a day of learning and networking.  The students will have an opportunity to meet their peers at other high schools as well as different healthcare professionals.  In addition, the students will be able to tour the campus, attend a class and interact with RMU healthcare professional students.  Admission counselors are available to answer any questions regarding enrollment at the university.  

This program helps to meet the state requirement of six hours of career mentoring for industry-based learning.  These interested students are encourage to enroll in the pre-college program at RMU.  
Sample Courses:
These are some of the classes for students in this academic program:
Healthcare Financial Administration
Healthcare Law & Ethics
Professional Career Development
Health Services Administration, Information Science
Communication Skills, Economics, Humanities, History, Sciences, etc.
Top Employers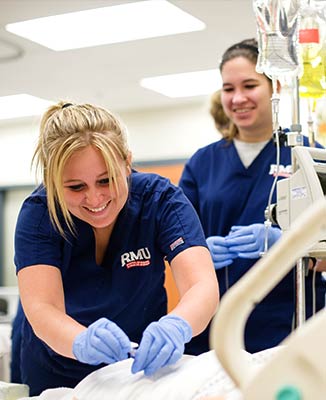 School of Nursing, Education and Human Studies
More than ever before, today's complex healthcare environment needs skilled clinicians,  expert communicators, and good people. Our students are about more than a major.
Visit School Site