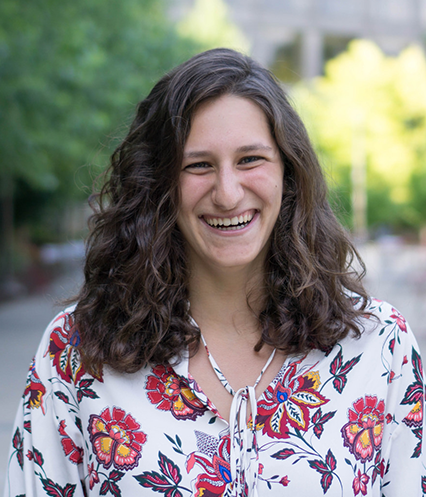 "Data analytics is something I didn't realize I liked so much until I started doing it."
After graduating from Pittsburgh Obama High School with a remarkable GPA, Miriam Levenson took her impressive academic record to Robert Morris University thanks to the Pittsburgh Promise Scholarship.
Following advice from her older sister, who works in IT project management, Miriam majors in data analytics. After two years she joined RMU integrated program, which will allow her to graduate in four and a half years with both an undergraduate degree in data analytics and a master's in management information systems. 
"Data analytics is something I didn't realize I liked so much until I started doing it," says Miriam. "It's a good combination of logical thinking with a new topic of IT and computers." 
Miriam has completed two internships and has a third lined up for this upcoming summer. At the RMU Career Fair she applied to K&L Gates to be on the IT reporting team and was chosen over a large pool of applicants. As a summer intern she worked on back-end reporting and got up-close experience in the IT industry. 
The following year she attended the same career fair and was awarded a second internship, this time with HM Solutions Inc., a subsidiary of Highmark that manages the healthcare company's IT solutions. Miriam worked as a business analyst under the billing department, getting hands-on experience with project management and serving IT solutions to clients.
"One thing I love about my internships is that I could come back to RMU and immediately apply what I learned to my course work," she says. 
Miriam's third internship will take her to North Carolina, where she'll be an IT intern at Sealed Air, the company that invented bubble wrap. 
On top of three prestigious internships, Miriam has been part of RMU's Division I rowing team for four years, was a Colonial Ambassador, and joined the Equestrian Club, Creativity Club, and Hillel Jewish Club.