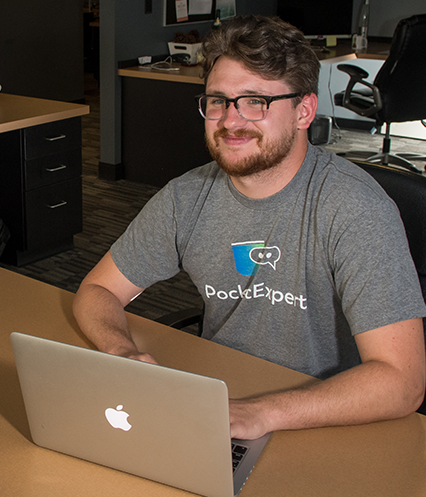 "I worked on so many different things at Robert Morris. Now I feel like I'm doing that at my job, trying to help where I can."
Quinton Perry earned two degrees at graduation last year – management and marketing – with the plan that those would cover a lot of territory in business. Pretty soon his job with a Fortune 500 company required Quinton to cover a lot of territory — on business trips to clients across the country, from Alaska to Maine.
The job came from an internship he landed with the company while still a student in the RMU School of Business. Being busy was nothing new to Quinton: He was a campus tour guide for visiting students,  president of the club soccer team, and a member of the student program board helping to plan and bring events to campus, on top of double-majoring.
Then Quinton and his fiancée made wedding plans, and he decided he wanted to spend less time in airports. With his background, he soon had an offer to be a senior experience advisor at a local startup.
The company, Pocket Expert, provides software for dealership service departments. "It allows me to work in every part of the company and fits my educational background, which is really cool," Quinton says. 
And when he started the new job, he got another surprise. His former RMU classmate, Katie Carlton, was working for the company too, on interaction design. She's since taken a new job offer in Denver, but that's okay. "A lot of people we interview are RMU too," Quinton says.