Organizational Leadership M.S.
Apply Today
The Master's in Organizational Leadership is an interdisciplinary degree which builds on your experience as a member of society interacting with a wide variety of institutions to learn how to effectively develop others and accomplish organizational goals. Members of a society conduct their daily lives engaged with their educational, political, cultural, religious, commercial, familial, community and governmental organizations. These organizations require effective and flexible leaders and followers to enable members to adapt to inevitable change and maintain a well-functioning society.
In the MS in Organizational Leadership program, you will engage in courses and subjects that will enable you to acquire the analytical and practical skills necessary to effectively participate in a wide range of society's organizations.   You will learn and practice how leaders recognize opportunity and motivate individuals and groups, and how and why followers choose people to lead them.  To provide you with a deeper understanding of how leaders and followers accomplish and adapt, you will study the theories and strategies of leadership, conflict negotiation, critical thinking, ethics, change management, as well as managing information technology, and analyzing human behavior in cultural contexts.
Contact Information
Petros Malakyan
Department Head
malakyan@rmu.edu
412-397-6302 phone
Wheatley Center 211
Course Plan

9 credits in Core Courses

ORGL6000 Foundations of Leadership & Followership
ORGL6200 Leadership & Ethics
ORGL6300 Leadership & Communications

15 credits in Required Courses

ORGL6100 Research Methods for Organizational Leadership
ORGL6600 Leadership and Decision Making*
ORGL6700 Leadership and Psychology of Work*
ORGL6800 Organizational Change*
ORGL7000 Organizational Leadership Capstone*

6 credits in Elective Courses

ORGL6400 Employment Laws and Practices in Organizations*
ORGL6550 Sex/Gender and Leadership
ORGL6650 Leadership and Organization Design
ORGL6750 Conflict Resolution*
ORGL6850 Group Dynamics & Interpersonal Relations*
ORGL6950 Global Perspectives*
Format and Delivery

All courses are taught in an eight-week accelerated format.  Students may complete this master's degree program completely online.  Students taking one course every 8-weeks can complete the degree requirements in less than two years; however, students have seven years in which to fulfill the degree requirements. 

Fully online courses are taught by a group of quality full-time and part-time faculty. If you are new to online learning visit this helpful page.

The majority of RMU students do apply for financial aid.  The first step is to apply for federal student Aid FAFSA.  The RMU financial aid web page and your dedicated financial aid counselor can assist with questions.

If your employer provides an employee tuition benefit, RMU does offer a corporate deferred billing program.  Enrollment information for the Company Reimbursement Program can be found at Student Financial Services (SFS)
Application Requirements

Submit final & official transcripts: Robert Morris University 6001 University Blvd, Moon Township, PA  15108.  A minimum undergraduate cumulative GPA of 2.75 required.
Current resume
An essay on your professional and academic goals answering these questions.  Why do you want to attend RMU?  How will the MS in Organizational Leadership advance your career? What are your expectation from the program?  (Approximately 750 to 1000 words in length).  The essay should be double spaced.  Applicant name and address typed at top of first page.
Two current letters of reference (academic or professional) signed and dated.
Once all application materials are received, your file will be reviewed by the Organizational Leadership admissions committee.  You may be contacted for a phone or in-person interview with a member of the Organizational Leadership admissions committee.

Graduate Admissions extends an invitation to you to join us at one of our many events at the Moon and Pittsburgh campuses, including virtual orientation sessions.  It's a great way to learn more, meet faculty, alumni, admissions, and future classmates.  Check out the events calendar.

Your Graduate Enrollment Manager will be in touch to answer any questions.   For more information or to schedule an on campus appointment, contact the Office of Graduate Admissions at 800-762-0097.
Sample Courses:
These are some of the classes for students in this academic program:
Foundations of Leadership & Followership
Leadership & Ethics
Group Dynamics & Interpersonal Relationships
Top Employers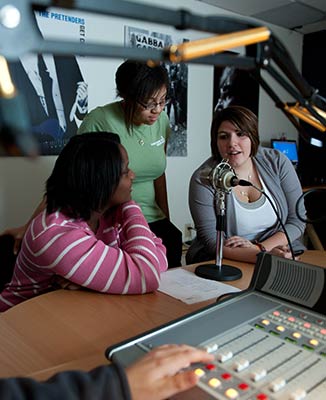 School of Informatics, Humanities and Social Sciences
Focus on delivering information in a way that makes an impact. Create images that capture attention, compose words that inspire, and design technology that changes how we live.
Visit School Site