Criminal Justice B.S.
Apply Today
The B.S. in Criminal Justice at Robert Morris University provides a rigorous education for students interested in pursuing careers on the federal, state or local levels of the criminal justice system. Prepare yourself with the right education for a growing career field that increasingly requires a bachelor's degree. Faculty members are practitioner-scholars and students have access to a crime lab, a use-of-force simulator, and technology tools that allow study of emerging problems including the dark web.
Students in this course of study may be eligible for the Early Law School Admission Program. This program can be incorporated with the M.S. in Cyber Investigations and Intelligence for an accelerated 4+1 dual degree track.
Curriculum
This degree program focuses on practical and broad knowledge base that is particularly important in a field where career paths vary between government, education, healthcare, and security. Building upon communication and critical thinking skills instilled in the RMU core, this degree includes course offerings in sociology, psychology and political science. Further study can boost marketable skills such as cyber forensics and data analytics, providing you with the technical aptitude and focus for the most sought-after professions. 
The required practicum/internship in the final year crucially enables you to receive actual work experience in the criminal justice system. This serves your career, not only because many criminal justice jobs require work experience in the field, but also because it enables you to make more informed decisions about your career path. 
Police Academy
Robert Morris hosts a Municipal Police Academy for the Pittsburgh region, training students to receive state Act 120 certification to become police officers in cities, boroughs, townships, and municipalities in Pennsylvania.
The Police Academy provides RMU criminal justice students an important professional experience plus the opportunity for course credit. Cadets who complete their Act 120 certification at the RMU Police Academy can earn up to 18 credits toward a degree in criminal justice.
 
Contact Information
Francis X. Hartle, D.Sc. 
Coordinator, Criminal Justice Program
hartle@rmu.edu 
412-397-6042 
Kathryn Dennick-Brecht, Ed.D. 
Department Head, Social Sciences
brecht@rmu.edu 
412-397-5419 
4-Year Course Plan
Practicum Information

All traditional undergraduate students majoring in the social sciences must complete a practicum their senior year. This involves 120 hours of documented experience at an internship related to the student's field that has been pre-approved by the student's faculty mentor and the department head.

Participation in professional activities allows students to experience the work environment in their chosen field, make informed career choices, and enhance their employment credentials. These experiences reinforce the connection between professional and liberal learning through the application of classroom theories to actual occupational problems. 

Completing the practicum involves keeping a journal with daily entries and weekly reflections and a timesheet signed by the supervisor and writing a 12-page paper comparing and contrasting their experiences in the practicum with the theories and information presented in the social sciences coursework which was completed at RMU. It should also explain why the site was selected for the practicum and give any recommendations for future social sciences students about the practicum experience.
Sample Courses:
These are some of the classes for students in this academic program:
Criminal Law & Evidence
Sociology of Deviant Behavior
Criminology
Criminology, Information Science, Sociology
Communication Skills, Economics, Humanities, History, Sciences, etc.
Top Employers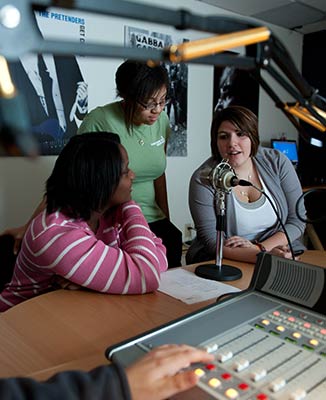 School of Informatics, Humanities and Social Sciences
Focus on delivering information in a way that makes an impact. Create images that capture attention, compose words that inspire, and design technology that changes how we live.
Visit School Site