Financial Planning B.S.B.A.
Apply Today
The B.S.B.A. in Financial Planning prepares students for careers in wealth management and financial planning, a field in growing demand both regionally and nationally. Personal financial advisors provide advice on investments, insurance, mortgages, college savings, estate planning, taxes, and retirement to help individuals manage their finances. The curriculum is designed to prepare students for the success in the Certified Financial Planner (CFP) exam, which they will be ready to take upon completion of their degree program. The CFP exam pass rate for program graduates is currently 100%.
Contact Information
Carol MacPhail
Email: macphail@rmu.edu
Phone: 412-397-6242
Fax: 412-397-2585
Massey Hall 234
4-Year Course Plan
Sample Courses:
These are some of the classes for students in this academic program:
Investment Analysis
Fundamentals of Tax Planning
Financial Plan Development
Finance, Accounting, Marketing
Communication Skills, Economics, Humanities, History, Sciences, etc.
Top Employers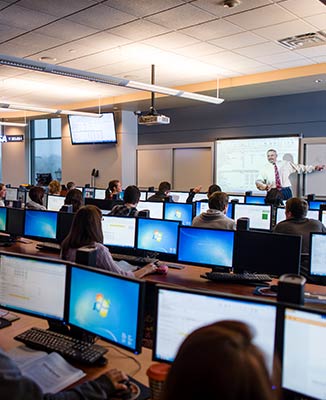 Rockwell School of Business
For nearly a century, our business students have learned to excel in a demanding professional world. With corporate connections and expert faculty mentors, our heritage is your future.
Visit School Site